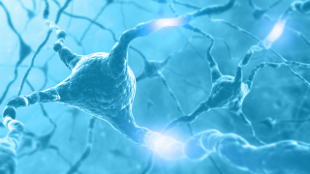 SHUTTERSTOCK, IDESIGN
An inherited disorder known as aromatic L-amino acid decarboxylase deficiency, or AADC, leaves patients unable to produce the neurotransmitter dopamine, leaving them nearly paralyzed until they die in early childhood. But a new gene therapy, which involves the delivery of the missing L-amino acid decarboxylase enzyme that converts the chemical precursor L-DOPA to dopamine, helped four Taiwanese children, aged 4 to 6 years, move their heads and sit up on their own, according to a study published today (May 16) in Science Translational Medicine.
"The children in this study have the most severe form of inherited movement disorder known, and the only treatments so far have been supportive ones," pediatric cardiologist Barry Byrne, director of the University of Florida's Powell Gene Therapy Center, said in a press release. "It is gratifying to see it is possible to do something to help them, other than providing feeding...
In the phase I trial led by Wuh-Liang Hwu of the National Taiwan University Hospital, doctors injected an adeno-associated virus loaded up with a good copy of the AADC gene into the children's putamen, a part of the brain where the enzyme works to make dopamine. Within 16 months of the surgery, all the patients showed increased head movements, higher weight, and were able to sit up without assistance. One patient was even able to stand. In the months that followed, the patients continued to gain weight, and scored higher on cognition and motor development tests. Their parents also said that the children slept better and had improved eye coordination and emotional stability.
Given the positive results, the doctors plan to treat eight more children—four in Taiwan and four in the United States, Byrne said.
AADC is not the only disease currently being targeted with gene therapy. Recent successes in treating hemophilia B, numerous cancers, and a variety of blindness disorders are stirring excitement around this once-embattled field. Look out for the feature story, Targeting DNA, in the June issue of The Scientist to learn more about the ways that gene therapy could change the face of medicine.
Interested in reading more?
Become a Member of
Receive full access to more than 35 years of archives, as well as TS Digest, digital editions of The Scientist, feature stories, and much more!