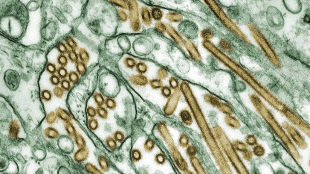 Colorized transmission electron micrograph of Avian influenza A H5N1 viruses (in gold)WIKIMEDIA, CDCWhen a new influenza pandemic emerges, researchers struggle to produce vaccines for new strains quickly enough to stop the outbreak in its tracks. Scientists have also been unable to design a universal vaccine that triggers the production of antibodies capable of fighting a range of different strains. But there may be an alternative, albeit temporary, strategy: researchers have now demonstrated that a technique involving the delivery of genes into the nasal passage via a viral vector provided protection against a wide variety of flu strains in mice and ferrets. The findings were published this week (May 30) in Science Translational Medicine.
The study is an "important proof of concept," Anthony Fauci, director of the National Institute of Allergy and Infectious Diseases, who was not involved with the research, told The Wall Street Journal. But...
According to ScienceNOW, James Wilson of the University of Pennsylvania was prompted by a discussion with Bill Gates in 2010 to see if adeno-associated virus (AAV)—a gene therapy tool previously used in animal studies to deliver genes to treat cystic fibrosis and AIDS—could courier genes encoding influenza antibodies into the noses of mammals, the site of initial infection.
After engineering an AAV to deliver the gene for a "broadly neutralizing antibody" that tackles various flu strains, developed by another group in 2011, Wilson and colleagues sprayed the vector into the noses of mice and ferrets. Sure enough, the nasal epithelial cells began to produce the antibodies, and the animals successfully fought off multiple viruses, including H5N1 and H1N1.
One potential problem is that epithelial cells in the nasal passage are regularly shed, so the strategy will only work for a short period of time, Wilson noted. But as he told ScienceNOW, the goal would never be to use AAV to produce the antibodies forever, because the long-term effects of viral vectors could be dangerous. He views it more as a potential stopgap approach—which could be administered periodically as a nasal spray—until researchers can make a vaccine that induces the immune system to make these broadly neutralizing antibodies.
Interested in reading more?
The Scientist ARCHIVES
Become a Member of
Receive full access to more than 35 years of archives, as well as TS Digest, digital editions of The Scientist, feature stories, and much more!