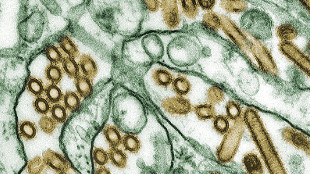 Colorized transmission electron micrograph of Avian influenza A H5N1 virusesCDCDuring a press conference last week, US Centers for Disease Control and Prevention (CDC) Director Thomas Frieden expressed dismay over a series of safety problems reported by the country's government labs in the last month, and assured his staff and the American public that the agency would discipline negligent parties and reassess existing protocols regarding potentially hazardous biomaterials. Now, ScienceInsider reported, government officials are convening a revamped lineup of the US National Science Advisory Board for Biosecurity (NSABB)—a group that hasn't met for more than two years, when they gathered at the 2012 American Society for Microbiology Biodefense and Emerging Diseases Research Meeting to discuss H5N1 bird flu dual-use research. Eleven original NSABB board members have been let go since that time.
Among them is Michael Osterholm, who directs the Center for Infectious Disease Research and Policy...
Meantime, Frieden is scheduled to testify at a House Energy and Commerce subcommittee hearing this week, The Washington Post reported. "Each layer we peel back in this investigation seems to reveal a new instance of carelessness in the CDC's management of dangerous pathogens," Representative Tim Murphy (R-PA) said in a statement.
In a memo released this week (July 14), members of the subcommittee said they plan "to analyze what went wrong; why the anthrax incident occurred, whether the recent incidents over the last week raise systemic concerns, and what can be done about it, including possible legislative action." The group also said it intends to discuss "the most effective ways to improve biosafety at the CDC," including whether its labs should be subject to oversight by US Department of Agriculture (USDA) Animal and Plant Health Inspection Services oversight.
CDC spokesperson Tom Skinner told The Washington Post that his agency is reviewing biosecurity recommendations made by the USDA, adding: "we're moving to address others as quickly as possible."
Interested in reading more?
The Scientist ARCHIVES
Become a Member of
Receive full access to more than 35 years of archives, as well as TS Digest, digital editions of The Scientist, feature stories, and much more!