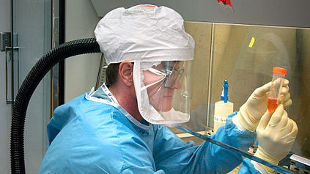 A researcher working in a biosafety level 3-enhanced laboratory setting WIKIMEDIA COMMONS, CDC'S PUBLIC HEALTH IMAGE LIBRARY
The Massachusetts Executive Office of Energy and Environmental Affairs last week (December 2) granted preliminary approval for Boston University to open its long awaited and highly controversial biomedical research laboratory, but only for work on less hazardous substances than originally proposed, The Boston Globe reported. In addition, the environmental agency is requiring another round of public comment, starting today (December 7) and lasting 2 two weeks. After that, the agency says it will consider issuing the final approval for the lab to begin biosafety level-2 research, which involves "agents that pose moderate hazards to personnel and the environment," according to the federal government's definition.
"BU researchers will focus on Tuberculosis and experiments that have been approved for the [biosafety level-2] laboratories," the University said in a statement. "They expect to begin work...
While the University says it's pleased with the preliminary decision, the original plan was for the facility, called the National Emerging Infectious Diseases Laboratory, was to study high-security organisms, such as Ebola and the plague. But as concern from the community caused legal and regulatory delays for the construction and opening of the 192,000-square-foot building, the University decided to apply for permission to start with less controversial substances. The University still plans to seek eventual approval to use part of the building as a biosafety level-4 lab, however, and is currently undergoing an environmental safety review by the National Institutes of Health.
(Hat tip to The Chronicle of Higher Education)
Interested in reading more?
Become a Member of
Receive full access to more than 35 years of archives, as well as TS Digest, digital editions of The Scientist, feature stories, and much more!