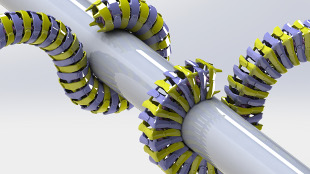 MICHAEL PORTER, CLEMSON UNIVERSITY
Examine a cross-section of a seahorse's tail, and you'll find a square instead of a circular pattern. To understand why, an international group of researchers combined computer modeling and 3-D printing. The results of their analysis were published in Science last week (July 3).
"Almost all animal tails have circular or oval cross-sections—but not the seahorse's," study coauthor Michael Porter, who studies mechanical engineering at Clemson University in South Carolina, said in a press release. "We found that the squared-shaped tails are better when both grasping and armor are needed."
According to Smithsonian, unlike other fish, seahorses use their tails to grasp objects such as coral or prey rather than to swim. The scientists modeled the segmented seahorse tail and compared its mechanics to those of cylindrical segmented tail models by subjecting them to varying degrees of force. They found that the square segments...
"New technologies, like 3-D printing, allow us to mimic biological designs, but also build hypothetical models of designs not found in nature," Porter said in the press release. "We can then test them against each other to find inspiration for new engineering applications and also explain why biological systems may have evolved."
Interested in reading more?
The Scientist ARCHIVES
Become a Member of
Receive full access to more than 35 years of archives, as well as TS Digest, digital editions of The Scientist, feature stories, and much more!