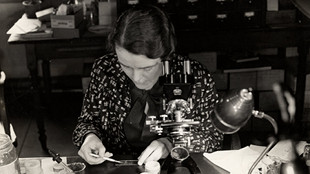 Ruth Patrick looks at slides with diatoms at the Academy of Natural Sciences in the 1940s.ANSP ARCHIVES COLL. 457Ruth Patrick, an ecologist who used biodiversity to measure waterways' health, died yesterday (September 23) at a retirement community in Lafayette Hill, Pennsylvania. She was 105.
"She was worried about and addressing water pollution before the rest of us even thought of focusing on it," James Gustave Speth, a professor at Vermont Law School, a former Dean of the Yale School of Forestry and Environmental Studies, and a co-founder of the National Resources Defense Counsel, told The New York Times in an e-mail.
Patrick was born in 1907 in Kansas City, Missouri, and grew up exploring the natural world with her father. "At night, my father, who was a lawyer and fairly well to do, would roll back the great wooden doors of the library and go in and open...
Patrick studied biology at Coker College in South Carolina before pursuing graduate work at the University of Virginia. She married the entomologist Charles Hodge IV in 1931. But she did not change her name, at the request of her father. "I want the name Patrick to amount to something in science," he said, according to The Inquirer.
After receiving her PhD, she accepted an unpaid position at the Academy of Natural Sciences in Philadelphia, which is now affiliated with Drexel University. Patrick was finally given a paid position in 1945. In 1948, while studying the polluted Conestoga Creek in Pennsylvania, she discovered that the abundance and variety of diatoms was a good indicator of pollution, the NYT reported. Diatoms remain important to environmental scientists, along with a host of other biological organisms that are used to monitor pollution.
Patrick remained with the academy for the rest of her career and was still working five days a week there up to age 97. Meanwhile, she helped to write the 1972 Clean Water Act, advised Lyndon B. Johnson and Ronald Reagan on environmental issues, and was a consultant for industry. She also taught at the University of Pennsylvania for more than 35 years.
"Many of the things that we take for granted now, in terms water quality and water purity, would not be where they are without her," Bob Peck, a naturalist and historian at the Academy of Natural Sciences, told The Washington Post.
Patrick was predeceased by her first husband, Hodge, and by her second husband, the lawyer Lewis H. Van Dusen, Jr. She is survived by her son, three stepchildren, 15 grandchildren, and 18 great-grandchildren.
Interested in reading more?
The Scientist ARCHIVES
Become a Member of
Receive full access to more than 35 years of archives, as well as TS Digest, digital editions of The Scientist, feature stories, and much more!