Joining Forces
Bioengineers combine mussel and bacterial proteins to make waterproof glue.
Sep 24, 2014
Molly Sharlach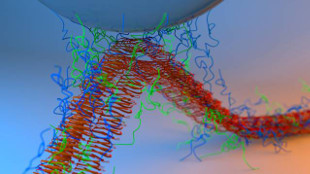 An adhesive composed of bacterial curli fibers (red) and mussel foot proteins (blue and green) sticks to the silica tip of an atomic force microscope.YAN LIANG
Marine mussels cling tightly to rocks, where they withstand the impact of crashing waves thanks to impressively sticky proteins in their feet. Bioengineers at MIT fused two different mussel foot proteins with curli fibers, which are produced by E. coli bacteria in biofilms, to create a new underwater adhesive. The glue, which the researchers presented this week (September 21) in Nature Nanotechnology, is the strongest known protein-based, underwater adhesive.
The scientists genetically engineered E. coli to churn out the hybrid proteins. When purified, the proteins self-assembled into chain-like fibers. The team used atomic force microscopy to probe the fibers, testing their ability to adhere to silica, gold, and polystyrene surfaces. They found that the resulting engineered glue was significantly stickier than any of its individual components.
The adhesive could be used to mend ships or other underwater structures, as well as to patch wounds or surgical incisions in the watery environment of the body. These applications will require producing the glue in much larger quantities than is currently possible. Previously, another group of MIT bioengineers inspired by mussels' sticky feet invented a hydrogel to coat plaques in blood vessels.
The researchers are working to develop an even stronger glue: "We're trying to figure out if by adding other mussel foot proteins, we can increase the adhesive strength even more and improve the material's robustness," said study author Timothy Lu in a press release.