Mammoth monument in Salekhard city, Tumen region, RussiaWIKIMEDIA, ZMIKERussian researchers reported last week that they'd discovered a very well preserved mammoth carcass lying under ice and tundra in the Lyakhovsky Islands north of the Arctic Circle. Word of the find, and the fact that flowing blood was recovered from the beast, spread around the popular press like wildfire. "The fragments of muscle tissues, which we've found out of the body, have a natural red color of fresh meat," said expedition leader Semyon Grigoriev in a statement from North-Eastern Federal University (NEFU) in Yaktusk, Siberia. "The blood is very dark, it was found in ice cavities bellow the belly, and when we broke these cavities with a poll pick, the blood came running out."
Grigoriev noted that the discovery could be just the spark needed for a joint mammoth cloning project between NEFU and the South Korean Sooam Biotech...
But is the hope of finding viable DNA and possibly even intact cells in the mammoth really that high? Scientific American reached out to some mammoth experts who weren't involved in the latest discovery, which was announced in the press before publication in the scientific literature, to temper the enthusiasm. "[The Russian team has] not found any 'living cell'—at most they could hope to find what the cloning enthusiasts might call a cell with 'viable' DNA, meaning that it would be intact enough to use in the context of a cloning effort," wrote Daniel Fisher of the University of Michigan in an email to Scientific American. "In fact, although there is much talk of 'viability' of this sort, I think it remains to be demonstrated that any DNA from a mammoth meets this criterion. In general, ancient DNA is highly fragmented and by no means 'ready to go' into the next mammoth embryo."
The University of Manitoba's Kevin Campbell, who has participated in research that successfully reconstructed mammoth hemoglobin using ancient DNA, told Scientific American that the blood, which is apparently still in a liquid state even at -17° C, very well could contain intact proteins. "Since the sample was collected from outside the body, it is likely that there is also 'contamination' from myoglobin and possibly bacteria (for example)," he wrote in an email to the magazine. "Based on the color alone, I think it is pretty safe to say that there is indeed a fair amount of hemoglobin (and possibly myoglobin) in the vials."
Cambell and Fisher both indicated that the mammoth research community is very interested in this recent discovery and that the newly unearthed carcass will now be studied in great detail to answer some of these intriguing questions.
Interested in reading more?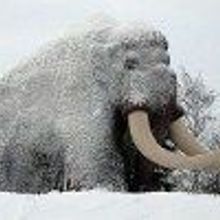 The Scientist ARCHIVES
Become a Member of
Receive full access to more than 35 years of archives, as well as TS Digest, digital editions of The Scientist, feature stories, and much more!