Monkey See, Monkey Add
Monkeys trained to recognize number values can add, a study finds.
Apr 23, 2014
Rina Shaikh-Lesko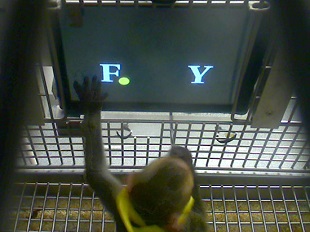 HARVARD MEDICAL SCHOOL, MARGARET LIVINGSTONRhesus monkeys that have been trained to understand symbols can add, according to a study published this week (April 21) in PNAS. A team led by Margaret Livingstone of Harvard Medical School had previously taught a group of male rhesus monkeys to associate numbers or letters with the numerical values 0 to 25 and to recognize the larger of two values in order to get a reward.
The monkeys could also choose the larger value when presented with a choice between a sum of two number symbols and a single number symbol. To make sure the monkeys weren't memorizing combinations of symbols, the researchers taught them a new set of symbols made up of block-like shapes rather than numbers and letters. The monkeys again learned how to add the symbols. However, the monkeys made some errors that revealed how they understand numbers. They paid more attention to the larger number in the sum, but sometimes underestimated the value of the smaller number in the sum.
"The monkeys want the most of whatever is out there, and this is just one of many ways to figure out the best way to get the most," Livingstone told NBC News.
"Being able to estimate obviously has survival value; you want to be able to glance up and see how many lions are about to attack you," psychologist David Burr of the University of Florence in Italy, who was not involved in the work, told ScienceNOW. "The remaining goal is developing a model to explain how that happens in the brain."
The researchers next plan to see if the monkeys are able to multiply number symbols, a mathematical feat that could reveal more about the way they think about numbers.