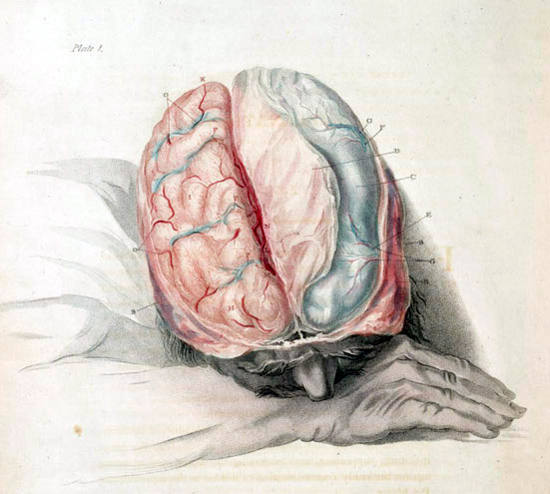 Charles Bell: Anatomy of the Brain, c. 1802FLICKR, SHAHEEN LAKHANLast September, a team led by researchers at University College London's Institute of Neurology found evidence of moderate to severe amyloid-β accumulation in the brains of Creutzfeldt–Jakob disease (CJD) patients. The patients had acquired CJD following treatment with cadaver-derived growth hormones that were apparently contaminated with prions, and the results suggested that Alzheimer's disease might be transmissible.
Now researchers from Switzerland and Austria have reported similar results in the brains of five of seven deceased CJD patients who had received surgical grafts of dura mater, also prepared from human cadavers and contaminated with CJD prions. Specifically, the researchers found plaques of amyloid-β in the grey matter and blood vessels of these five deceased patients, aged 28 to 63—too young for such plaques to be normal. Twenty-one control deceased CJD patients who had not had cadaver-derived surgical grafts showed no...
"Our results are all consistent," neurologist John Collinge, a coauthor on the 2015 study, told Nature. "The fact that the new study shows the same pathology emerging after a completely different procedure increases our concern."
However, "nothing is proven yet" in terms of how the deceased CJD patients developed the signs of amyloid-β pathology, added Pierluigi Nicotera, head of the German Centre for Neurodegenerative Diseases in Bonn. "We need more systematic studies in model organisms to work out if the seeding hypothesis of Alzheimer's is correct."
Interested in reading more?
The Scientist ARCHIVES
Become a Member of
Receive full access to more than 35 years of archives, as well as TS Digest, digital editions of The Scientist, feature stories, and much more!