WIKIMEDIA, A. DAVEYTwo people died last month in Shanghai and one person from the nearby Anhui Province was reported to be in critical condition with a new strain of bird flu. Yesterday (April 2), the Chinese government announced that four more people had been hospitalized with the virus in the Jiangsu Province.
The virus has been identified as H7N9, a bird flu virus that has previously not shown much propensity for attacking humans. Prior to the recent Chinese cases, only one person had been confirmed dead of the virus, a Dutch vet who contracted the infection in 2003 during an outbreak on a poultry farm, ScienceInsider reported.
The epidemiology behind the current cases remains unclear. The infected people show no clear connections with each other, and only one of the four newly announced victims appear to have worked with poultry, the Chinese government said—a slaughterer who could have...
Chinese officials have examined people who came in contact with the three original victims in Shanghai but said they had found no other cases, indicating that the virus is not transmissible between humans. But ScienceInsider said that the sons of an 87-year-old victim of the virus had gotten pneumonia around the time their father fell ill, and one of them had died, raising suspicions that they too had the virus.
Some in China wonder if the 16,000 dead pigs found mysteriously floating last month in rivers that supply Shanghai with water could be to blame, but the Chinese government said it had tested the pigs and found no signs of the virus. Malik Peiris, a University of Hong Kong virologist, told ScienceInsider that the pigs were an unlikely culprit: "It is not expected that any form of influenza would lead to such a huge die-off in pigs."
Yi Guan, also a virologist at the University of Hong Kong, said that studying the viruses isolated from the infected people would explain more. "We haven't carefully analyzed the virus sequences yet," he told ScienceInsider. "So far we have very, very limited information."
Interested in reading more?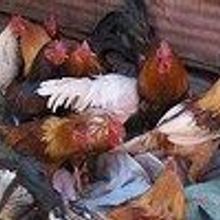 The Scientist ARCHIVES
Become a Member of
Receive full access to more than 35 years of archives, as well as TS Digest, digital editions of The Scientist, feature stories, and much more!