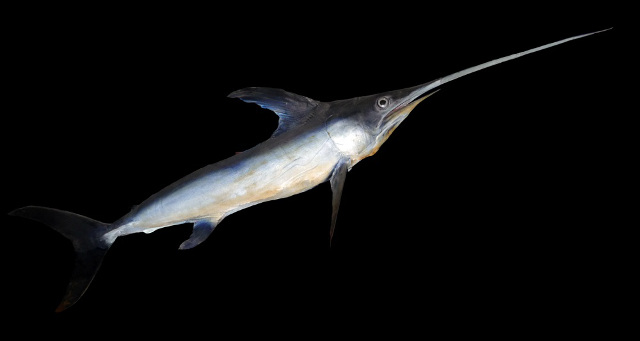 WIKIMEDIA, CITRONSwordfish have a previously unrecognized oil gland near the base of the sword that connects via capillaries to pores on the skin, according to research published today (July 6) in the Journal of Experimental Biology. Marine biologist John Videler, emeritus professor at the Netherlands' University of Groningen, and colleagues hypothesize that this gland produces an oily coating on the swordfish head, which—along with microscopic protrusions from the skin, called denticles—may reduce drag and boost swimming speeds.
"I find this quite fascinating," ecologist Jens Krause of Berlin's Humboldt University, who was not involved in the work, told The Scientist. Krause noted that the gland's function has yet to be tested. "Much is really left as speculation. Nevertheless, I think it's an interesting idea that deserves publication and will undoubtedly require testing."
This paper was two decades in the making. In 1996, Videler performed magnetic resonance imaging (MRI)...
Last year, another group described a weak area of thin bone at the base of the swordfish's bill.
Videler was familiar with this spot: 20 years ago, on his way out of the hospital where he had administered the swordfish MRIs, he banged one of the animals' swords against a door frame. "And then it broke off just at that weak spot," he told The Scientist. Intrigued by the new finding, Videler decided to revisit the swordfish MRI data.
In the present study, the authors suggest that the spot is weak because the oil gland lies behind it.
The authors hypothesize that this gland releases oil to the capillaries and the vessels transport it to the pores, which secrete the fluid. The resulting oily layer, combined with the denticles—which make the skin rough—could make the skin super-hydrophobic and reduce drag, the authors proposed in their paper.
Swordfish cannot be kept in captivity, making them difficult to study. Future experiments could use models to investigate whether the oil layer reduces drag, Videler said.
Krause is interested to see whether other billfish—such as sailfish and marlins—have similar oil glands. "I've got lots of billfish heads in my freezer," he said, "so I will certainly look at them and see whether I can find those [glands] also in our sailfish."
Interested in reading more?
The Scientist ARCHIVES
Become a Member of
Receive full access to more than 35 years of archives, as well as TS Digest, digital editions of The Scientist, feature stories, and much more!