A transmission electron micrograph image of the Zika virusCDCThe race is on to develop animal models for Zika. The latest mouse model, developed by researchers at Washington University School of Medicine in St. Louis, mimics features of Zika virus infection in humans, including accumulation of the pathogen in the brain, spinal cord, and testes, the researchers reported in a study published today (April 5) in Cell Host & Microbe.
"Now that we know the mice can be vulnerable to Zika infection, we can use the animals to test vaccines and therapeutics—and some of those studies are already underway—as well as to understand the pathogenesis of the virus," study coauthor Michael Diamond, a professor of medicine at Washington University, said in a statement.
To develop this model, study coauthor Helen Lazear—now at the University of North Carolina, Chapel Hill—and colleagues tested five strains of the virus, including...
Lazear's team infected mice that had been genetically modified to not produce an immune system signaling molecule, interferon. The infected animals lost weight, grew lethargic, and died within 10 days, whereas normal mice only developed severe symptoms if they were infected with the virus before reaching one week old (when their immune systems were not yet fully developed).
The model mice showed high levels of the virus in the brain and spinal cord, the researchers reported. Surprisingly, the researchers found the highest levels of virus in the testes of male mice, adding to evidence that the virus can be sexually transmitted. The researchers are now working to decipher how long the virus persists in the testes and could, therefore, be transmitted by sex.
Scientists from the University of Texas Medical Branch last month (March 28) described another murine model of Zika infection—developed from a strain of the virus collected in Cambodia in 2010—in The American Journal of Tropical Medicine and Hygiene.
Interested in reading more?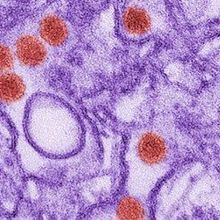 The Scientist ARCHIVES
Become a Member of
Receive full access to more than 35 years of archives, as well as TS Digest, digital editions of The Scientist, feature stories, and much more!