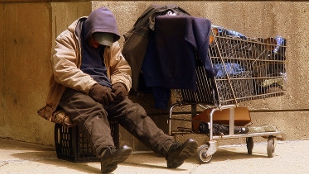 WIKIMEDIA COMMONS, MATTHEW WOITUNSKI
Obesity may be the new face of malnutrition in the United States. Out of a pool of more than 5,600 homeless people seen by doctors in the Boston area between 2007 and 2008, 60 percent were overweight or obese, according to a study published in the Journal of Urban Health. Only 1.6 percent of those seen were underweight.
While malnutrition has been linked to obesity before in what's called the hunger-obesity paradox, whether that extended to the poorest in our society was unknown. "You can buy calories very cheaply, but it's hard to buy nutrition cheaply," Andrew Rundle, a Columbia University obesity researcher told Wired Science.
If obesity, and the metabolic diseases that come with it, such as diabetes, continue to rise in the 3 million US homeless, it could present new challenges for society. For example, needles required for insulin replacement treatments are...
Interested in reading more?
Become a Member of
Receive full access to more than 35 years of archives, as well as TS Digest, digital editions of The Scientist, feature stories, and much more!