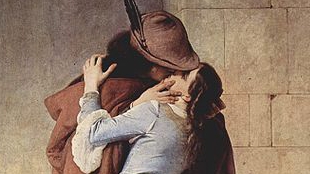 WIKIMEDIA COMMONS, THE YORCK PROJECT
Love actually can heal all wounds—well, sort of. According to a new research, gazing at a loved one's photograph can activate neural activity in a part of the brain involved in feelings of safety and reassurance, which actually helps dull physical pain.
Previous research had similarly demonstrated that the presence of a loved one could ease physical pain, but the study, published this week in the Proceedings of the National Academy of Sciences, was the first to pinpoint the brain region involved in the phenomenon.
The researchers took functional MRI scans of the brains of 17 women who were looking at photos of their romantic partners, strangers, or inanimate objects. At the same time, they delivered brief shocks to the women, and asked them to rate the intensity of the pain. Though the shocks were all the same, the women reported less pain while...
Interestingly, researchers have noticed the opposite effect when people view an image of spiders or snakes—the pain actually feels worse. "In the literature, people talk about prepared fear stimuli—snakes, spiders, things that we're innately prepared to be afraid of," psychologist Naomi Eisenberger of UCLA told Wired. "Loved ones, attachment figures, may act as prepared safety signals, as individuals who over evolutionary history have favored our survival."
Interested in reading more?
Become a Member of
Receive full access to more than 35 years of archives, as well as TS Digest, digital editions of The Scientist, feature stories, and much more!