Placental Ancestor Found
A small insect-eating animal is the common ancestor of whales, elephants, dogs, and humans.
Edyta Zielinska
Feb 11, 2013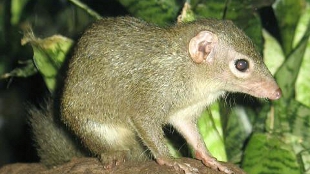 Common TreeshrewWIKIMEDIA, STAVENNA small land creature that lived after the supercontinent of Gondwana split is the common ancestor of all placental mammals, offering new insights on the branches of the evolutionary tree. The study was published last week (February 8) in Science.
"The data matrix that they've assembled is jaw-dropping," Olaf Bininda-Emonds, an evolutionary biologist at Oldenburg University who was not involved in the study, told Nature.
The researchers took 6 years to look at more than 4,500 anatomical traits of 86 extinct and living mammals from museums and research institutions in the United States and Canada. The trait analysis was combined with genetic and molecular data from living species to redraw parts of the evolutionary tree.
They found that a small, furry, insectivorous mammal was the common ancestor of all placental mammals, including humans. Fossil evidence suggested that the group to which this animal belonged...
The study also found that elephants are more closely linked to sea cows than previously thought, and that flying lemurs are not more closely related to primates than treeshrews. Furthermore, the study settles a debate about whether placental animals cohabitated the planet with dinosaurs. The new analysis places placental mammals several thousand years after non-avian dinosaurs went extinct.
However, not everyone agrees that the data are definitive. "They haven't really done anything to resolve this ongoing dispute," Bininda-Emonds told Nature. The group's use of fossil evidence in conjunction with molecular data, he noted, is like comparing "apples to oranges."