Polymer Helps Blood Clot
An injectable solution stops bleeding in rats with nicked femoral arteries.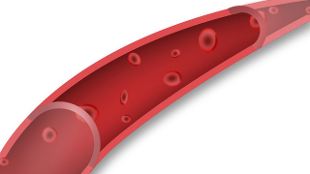 FLICKR, ZAPPYS TECHNOLOGY SOLUTIONSA synthetic polymer could one day help save people from losing too much blood, according to a rat study published yesterday (March 4) in Science Translational Medicine. Injected into the circulation of rats, the polymer stopped the animals' bleeding after their femoral arteries were cut.
"We designed a polymer that we can inject into the bloodstream and that's able to integrate in the forming of clots, and it stabilizes them," study coauthor Suzie Pun, a bioengineer at the University of Washington, told The Verge. "I think this has real power to save people in the battlefield."
Pun and her colleagues derived the polymer, called PolySTAT, from the same material that is used to make contact lenses and a peptide that binds fibrin, a fibrous protein involved in the formation of platelet plugs during blood clotting. After making 3-millimeter cuts in the femoral arteries of 40 rats, the researchers treated half of the animals with the polymer solution. While about 50 percent of the untreated rats died, all of those that received the polymer injection survived.
"PolySTAT reduced blood loss, abolished rebleeding at the injury site, and increased survival," Karim Brohi, a trauma science researcher at Queen Mary University in London, wrote in an accompanying perspective article.