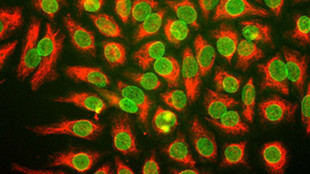 WIKIMEDIA, GERRYSHAW
A team of European researchers earlier this month published the genome sequence of HeLa cells, the first cells to be grown immortally in culture. They have now taken the sequence down from repositories after hearing from the family of Henrietta Lacks, the woman from whom the cells were taken in 1951.
Rebecca Skloot, author of the 2010 book The Immortal Life of Henrietta Lacks, wrote on The New York Times Opinion pages that the publication was in violation of the family's privacy, since the cells contain their genetic information.
"The Lacks family is proud of HeLa's contributions to society, and they don't want to stop HeLa research," she wrote. "But they do want to learn about the HeLa genome—how it can be used for the good of science while still protecting the family's privacy—so they can decide whether to consent to its publication."
Researchers originally took cervical...
"That is private family information," Jeri Lacks-Whye, Henrietta Lacks' granddaughter, told Skloot. "It shouldn't have been published without our consent." By the time the researchers took the sequence down it had been downloaded at least 15 times.
Skloot argued that laws about using DNA sequences are outdated, since they were made at a time when it was not possible to get much information out of DNA, and since we will soon have access to even more detailed information than we have today. Francis Collins, head of the National Institutes of Health, agreed. "This latest HeLa situation really shows us that our policy is lagging years and maybe decades behind the science," he told Skloot. "It's time to catch up."
Interested in reading more?
The Scientist ARCHIVES
Become a Member of
Receive full access to more than 35 years of archives, as well as TS Digest, digital editions of The Scientist, feature stories, and much more!