Brian Chan with his daughter Galya, who has NPC, and her twin brother Ezra, who is an NPC carrierCOURTESY OF BRIAN CHANA protein encoded by a gene linked to the rare, fatal disease Niemann-Pick Type C (NPC) is required for the Ebola virus to infect our cells and replicated within them. This surprising link between the genetic disease and the deadly virus now ravaging parts of West Africa was first identified in 2011; now researchers are taking advantage by studying the parents of children with NPC.
These parents are each carriers of a mutated NPC1 gene, which encodes the protein NPC1. Their children inherited a mutant copy from each parent, resulting in the development of NPC disease. A few years ago, studying mice that similarly carry one normal copy of NPC, just like the parents of kids suffering from NPC, an international group of researchers found that...
To take advantage of this resistance to Ebola, several researchers are now looking to interfere with Ebola's use of the NPC1 protein. Some parents of children with NPC disease are also pitching in to help scientists further understand how the NPC1 protein interacts with the virus. One NPC dad, Brian Chan of Los Angeles, is helping to fund investigations of cells from known carriers people such as himself to nail down how mutations in the NPC1 protein protect against viral infection. The project will also look at cells taken from survivors of previous Ebola outbreaks, in search of NPC1 mutations that may have protected these people from the virus.
"We want more research on the NPC gene," Chris Hempel, a mother of two children with NPC disease who is also helping to organize such work, told WSJ. Specifically, she is organizing the collection of blood and tissue samples from more NPC parents.
John Dye, principal investigator of the NPC-Ebola research at the US Army Medical Research Institute of Infectious Diseases and a coauthor one of the 2011 studies, told WSJ that such research might not only inform management and treatment strategies for the current and future Ebola outbreaks, but hopefully provide some clues that could help families suffering from NPC as well. Albert Einstein College of Medicine's Steven Walkley, who collaborated with Dye on the 2011 work, added: "This shows the value of the study of rare disease."
Update (November 4): The photograph accompanying this story has been updated to a picture of Brian Chan and his twins.
Interested in reading more?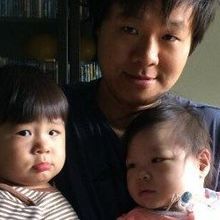 The Scientist ARCHIVES
Become a Member of
Receive full access to more than 35 years of archives, as well as TS Digest, digital editions of The Scientist, feature stories, and much more!