Reduced Risk?
A genome-wide association study identifies a SNP that could help explain the relatively low rates of breast cancer among Latina women.
Oct 22, 2014
Molly Sharlach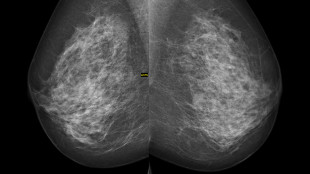 Digital mammogram imagesWIKIMEDIA, NEVIT DILMEN
Latina women in the United States have a less than 10 percent lifetime risk of developing breast cancer, while the rate is about 13 percent for non-Hispanic white women and 11 percent for black women. A new genetic analysis of more than 11,000 women has uncovered a single-nucleotide polymorphism (SNP) upstream of an estrogen receptor gene that may contribute to this decreased risk. The study, published this week (October 20) in Nature Communications, is the first of its kind to use genetic information from Latina women.
About 20 percent of Latina women in the U.S. carry one copy of the protective allele, while 1 percent carry two copies—these were associated with 40 percent and 80 percent decreases in the risk of breast cancer, respectively. The variant is more prevalent in women with indigenous American ancestry.
"My expectation would be that if you go to a highly indigenous region in Latin America, the frequency of the variant would be between 15 and 20 percent," study coauthor Laura Fejerman, a geneticist at the University of California, San Francisco, told The New York Times. "But in places with very low indigenous concentration—places with high European ancestry—you might not even see it."
While the precise effect of the SNP is not known, women with the low-risk variant tend to have less dense breast tissue, which is known to decrease the risk of cancer. The polymorphism lies within the binding regions of several transcription factors, and thus could affect estrogen receptor expression levels. Further investigation of this mechanism could eventually lead to new therapies.
"I'm confident that this finding is going to hold, that most women who have this genetic variant are at lower risk of breast cancer," Otis Brawley of the American Cancer Society told The New York Times. "But keep in mind that some women with this variant still get breast cancer," said Brawley, who was not involved in the study. "It might be because they have this variant and something else that cancels it out."