Republicans Say Peer Review Isn't Enough
Representative Lamar Smith (R-TX) is writing legislation to change the rules of the NSF's grant review process.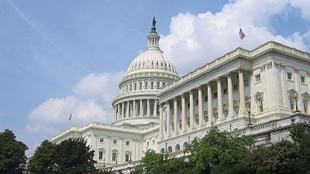 WIKIMEDIA, MARTIN JACOBSENHouse of Representatives science committee chair Lamar Smith, a Republican from Texas, is writing a bill that would mandate new funding criteria for National Science Foundation (NSF) grants.
Called the "High Quality Research Act," the bill would require the NSF to judge research on three criteria, according to a copy of the draft legislation obtained by ScienceInsider and The Huffington Post.
According to the draft, all funded research must "advance the national health, prosperity, or welfare" and "secure the national defense" of the United States. The NSF must certify that each funded project is of "the finest quality, is groundbreaking, and answers questions or solves problems that are of utmost importance to society of large." Finally, funded projects can't duplicate work already being funded by the government.
The draft comes after Smith and other representatives questioned National Science Board Chair Dan Arvizu and acting NSF head Cora Marrett about the agency's funding criteria at a hearing on April 17. Arvizu responded that the agency had recently assessed their current criteria of "intellectual merit" and "broader impacts" on society and found them sufficient.
Smith has also been investigating individual NSF grants. He sent a letter to Marrett asking for reviewers' comments and NSF program officers' notes on five recently accepted grant proposals. He told ScienceInsider that the proposals "do not seem to meet the high standards of most NSF funded projects."
Eddie Bernice Johnson, a democratic Representative from Texas who is also on the science committee, wrote Smith a scathing letter in response to his letter to Marrett. "This is the first step on a path that would destroy the merit-based review process at NSF and intrudes political pressure into what is widely viewed as the most effective and creative process for awarding research funds in the world."
The drafted bill also includes a mandate to look into whether other government science agencies should similarly revamp their review process.