Science in the Cities
California, Texas, and New York are home to more than a quarter of all US scientists and engineers, according to an NSF report.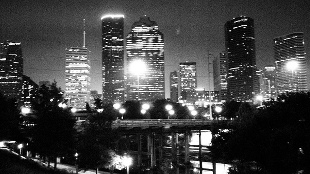 Downtown HoustonFLICKR, PATRICK FELLERScientists and engineers in and around Santa Clara, Los Angeles, San Diego, Houston, and New York City accounted for one in every 10 such workers nationwide in 2011, the National Science Foundation (NSF) has found. Together, these metropolitan areas within the three most populous states—California, Texas, and New York—are home to more than one-fourth of all US scientists and engineers.
Compiling data from the US Census Bureau's 2011 American Community Survey, the NSF counted a total of 5.7 million workers employed in science and engineering occupations across the country. In a report released this week (August 19), the agency showed that one of every two such workers resided in one of the nine states with the largest science and engineering employment. In addition to the big three, Florida, Virginia, Pennsylvania, Illinois, Massachusetts, and Ohio together accounted for nearly another quarter of the nation's science and engineering workforce, the report noted. The areas surrounding New York City, San Diego, Los Angeles, Boston, and Montgomery County, Maryland, contained 14 percent of the 259,000 total employees in life-science occupations in 2011.
In a statement, the agency said that scientific and engineering jobs are "an integral part of a region's capacity to innovate because of the scientists' and engineers' high skill levels, creative ideas, and contributions to scientific knowledge and to research and development."