ISTOCK, EUGENEONLINE
Researchers reported severe, life-threatening toxicity in nonhuman primates and piglets treated with high-dose, adeno-associated virus (AAV9) gene therapy this Monday (January 29) in Human Gene Therapy. The news caused stocks of several leading biotech companies to tumble.
James Wilson, a molecular biologist at the University of Pennsylvania, and his colleagues found that an AAV9 variant (AAVhu68) used to deliver a human gene to spinal cord motor neurons in rhesus monkeys and piglets resulted in severe toxicity affecting the liver and motor neurons. Symptoms began appearing within five days of administering the gene therapy. One monkey and three piglets had to be euthanized.
"AAV still remains, from my experience over three decades, one of the safest delivery systems," Wilson tells Xconomy. "We should expect with any biologic product that if you push the dose high enough, you're going to encounter dose-limiting toxicities."
Earlier this month, Wilson left his...
In an accompanying editorial, Terence Flotte, the editor-in-chief of Human Gene Therapy, and Hildegard Büning, editor of Human Gene Therapy Methods, urge researchers to approach the study's findings "in a balanced and responsible fashion."
They note that the number of animals included in the study was small—only three per species—and that it was impossible to compare dose-response relationships with either liver or motor neuron toxicity because all animals were treated with the same dose. "[I]t is crucial that the members of our field neither ignore, nor overreact to these findings," they write.
Stocks of three biotech companies—Avexis, Sarepta Therapeutics, and Solid Biosciences—fell when the study was announced.
Interested in reading more?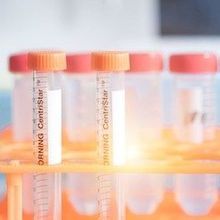 The Scientist ARCHIVES
Become a Member of
Receive full access to more than 35 years of archives, as well as TS Digest, digital editions of The Scientist, feature stories, and much more!