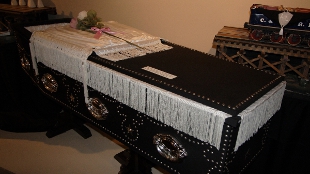 WIKIMEDIA COMMONS, ROBERT LAWTON
Stem cells stay alive and in a dormant state for more than 2 weeks after a person passes away, according to researchers in France. A team of scientists at the Pasteur Institute in Paris have successfully recovered viable stem cells from muscle tissue in dead bodies that had been kept at 4 degrees Celsius for 17 days, later using the cells to generate new, functional muscle cells. They report their findings in this week's issue of Nature Communications.
Previously, researchers thought that stem cells could only remain viable in corpses for 1 or 2 days. But Pasteur Institute histologist and neuropathologist Fabrice Chrétien, senior author on the paper, said that stem cells may even remain viable for more than 17 days. "Maybe they can also resist longer," he told LiveScience.
The stem cells recovered from the human corpses were in a dormant state, characterized...
"This discovery could form the basis of a new source, and more importantly new methods of conservation, for stem cells used to treat a number of pathologies," according to a statement from the Pasteur Institute announcing the discovery.
Interested in reading more?
Become a Member of
Receive full access to more than 35 years of archives, as well as TS Digest, digital editions of The Scientist, feature stories, and much more!