A Wooden carving from the volcanic islands of MangarevaWIKIMEDIA, CLIFFMost researchers think that early humans populated the Americas by crossing the Bering land bridge that then connected Alaska and Asia. However, a new study published this week (April 1) in Proceedings of the National Academy of Sciences has found a link between one group of these early settlers, the Botocudo people of southeastern Brazil, and the Polynesians of the southern Pacific.
Researchers studies short stretches of mitochondrial DNA (mtDNA) from museum tooth samples of ancient Botocudo individuals, extracting a piece of the tooth cores so as not to pick up DNA contamination from people who have touched the teeth. A few of the samples contained mtDNA that resembled those of modernPolynesian populations. Although the researchers are fairly confident that their results are accurate, explaining it is more difficult.
One hypothesis suggests that Polynesians could have traveled to the...
Interested in reading more?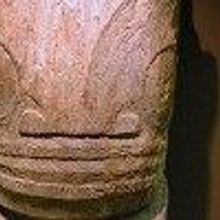 The Scientist ARCHIVES
Become a Member of
Receive full access to more than 35 years of archives, as well as TS Digest, digital editions of The Scientist, feature stories, and much more!