FLICKR, PETRAS GAGILASTo help those with visual impairments make out the shape and movement of objects, a company has developed a device that takes visual information and translates it to electrical pulses delivered to the tongue. The idea is that users learn how to interpret the tingling patterns and come to "see" their environment through the gadget. Last week (June 18), the US Food and Drug Administration gave the company permission to begin selling its device, called BrainPort V100.
"Medical device innovations like this have the potential to help millions of people," William Maisel, deputy director for science and chief scientist in the FDA's Center for Devices and Radiological Health, said in a press release. "It is important we continue advancing device technology to help blind Americans live better, more independent lives."
Users wear glasses mounted with a video camera and suck on an electrode array about the...
"This device does not give you your sight," Mike Jernigan, a Marine who lost his sight in Iraq and an early user of the BrainPort, told the Washington Post back in 2009. "There is not that picture in your head." Instead, Jernigan said, it's more akin to someone using a finger to draw pictures on your back.
He added that it's elementary, but it's a first step. "For five years I have stared at a blank, black screen," Jernigan told the Post. "People are thinking outside of the box, and by doing so, it allows someone like me to have the hope of the possibility that I might see again."
BrainPort has been sold in Europe since 2013.
Interested in reading more?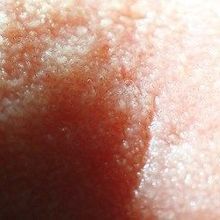 The Scientist ARCHIVES
Become a Member of
Receive full access to more than 35 years of archives, as well as TS Digest, digital editions of The Scientist, feature stories, and much more!