iSTOCK, PAPPAMAARTAccording to an analysis of recent data, female scientists in academia do not face an inhospitable workplace. Rather, the relatively low numbers of female faculty are simply due to women's career choices, psychologists Stephen Ceci and Wendy Williams of Cornell University and economists Donna Ginther of the University of Kansas and Shulamit Kahn of Boston University argue in Psychological Science in the Public Interest.
"There's no argument that, until recently, universities deserved their reputations as bastions of male privilege and outright sexism. But times have changed," Williams and Ceci wrote in The New York Times. "That's not to say that mistreatment doesn't still occur," they continued, "but when it does, it is largely anecdotal, or else overgeneralized from small studies." Additionally, the authors claim that the lingering perception of a sexist workplace itself is hurting science. "Our country desperately needs more talented people in these fields....
Not surprisingly, many in the scientific community don't agree with the authors' conclusions. One criticism, voiced by the University of California, Davis's Jonathan Eisen on his The Tree of Life blog, is that "career progression" topics—like salary and promotion—are lumped in with workplace topics—such as hostility and physical aggression against women—and yet, the authors only discuss data relevant to the career progression-related issues. Evidence suggesting relative equality in this area, then, seems to have led to the assumption that "other workplace issues must not be a problem," Eisen wrote. "[That's] a dangerous and unsupported connection."
"In other words, one cannot conclude that hostility in the workplace does not exist just because women are getting promoted," Athene Donald, a professor of experimental physics at the University of Cambridge, U.K., summarized of Eisen's point at The Guardian. "I agree."
Donald added that there is indeed evidence that some women do experience workplace hostility and harassment. A PLOS ONE study from just this summer, for example, found that some 26 percent of women had experienced some kind of physical assault in their academic workplace, most commonly from more senior men. "It is hard to believe that this does not amount to a sexist working environment, or that it doesn't affect women's desire to stick around in science," Donald wrote.
Indeed, one of the analyses presented in the new paper compares the number of women applicants for an assistant professor position in physics. The authors pointed out that while only 13 percent of the applicants were female, women comprised 19 percent of those invited to interview and 20 percent of those actually hired. The authors take this as evidence that women are not being discriminated against during the hiring process, but Donald has a different explanation: "This tells me that more women than men are dropping out before applying for a faculty position at all. That may indeed be due to women's choices, but the choice may be determined or at least affected by a hostile workplace."
Bloggers Emily Willingham and PZ Myers agreed that the community can't blame women for choosing to avoid workplaces that have proven to be hostile for female scientists, ScienceInsider reported. "Academic science is sexist: We do have a problem here," Willingham wrote.
Interested in reading more?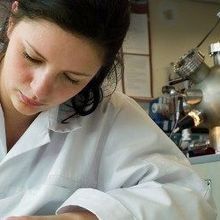 The Scientist ARCHIVES
Become a Member of
Receive full access to more than 35 years of archives, as well as TS Digest, digital editions of The Scientist, feature stories, and much more!