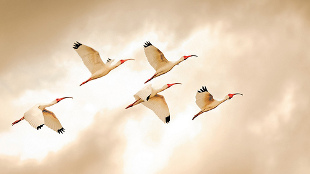 FLICKR, STEVE COREYThe size of a flying bird's genome is tied to the animal's wing dimensions as well as its heart size, flight muscle mass, and total body mass, a team led by the University of New Mexico's Natalie Wright has found. The researchers published their findings in Proceedings of the Royal Society B last month (January 29).
Specifically, Wright and her colleagues found in a phylogenetically diverse sampling of 422 flying bird species that genome size was negatively correlated with relative flight muscle size and heart-to-body mass ratioand positively correlated with body mass and wing loading. Overall, the researchers noted, large hearts and flight muscles were the best predictors of reduced genome size in birds like the wandering albatross (Diomedea exulans). "These two components of the metabolic flight 'engine' implicate the rate of energy use as a key driver of repeated evolutionary reductions in avian genome...
Interested in reading more?
The Scientist ARCHIVES
Become a Member of
Receive full access to more than 35 years of archives, as well as TS Digest, digital editions of The Scientist, feature stories, and much more!