The Genetics of Menarche
Hundreds of loci in the genome are associated with the age at which a girl starts menstruating.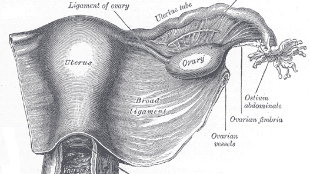 WIKIMEDIA, GRAY'S ANATOMYThe timing of a girl's first period is inherited, and a study published in Nature this week (July 23) identified more than 100 different spots in the genome tied to menarche. "However our analyses suggest there are likely to be thousands of variants and possibly genes involved in a broad range of biological pathways and processes," John Perry, the lead author of the study and a geneticist at the University of Cambridge, told the Verge in an e-mail.
More than 180,000 women of European descent participated in the 57 studies used for Perry's analysis. Some of the influence on the age of menarche appeared to come from imprinted genes—in which a copy from one parent is silenced to favor the expression of the other parent's copy.
"Our findings imply that in a family, one parent may more profoundly affect puberty timing in their daughters than the other parent," Perry said in a statement. According to the press release, this is the first time imprinted genes have been linked to controlling development after birth. "We knew that some imprinted genes control antenatal growth and development—but there is increasing interest in the possibility that imprinted genes may also control childhood maturation and later life outcomes, including disease risks," said Perry.