The Martian Tempest
NASA scientists are closely watching a dust storm on Mars that threatens to go global and interfere with rovers on the planet's surface.
Beth Marie Mole
Nov 26, 2012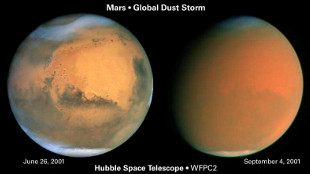 A dust storm obscures the surface of Mars in September 2001.Wikimedia, NASAIn the first weeks of Martian dust storm season, NASA scientists have spotted a sizeable squall on the red planet that is absorbing sunlight and has already raised atmospheric temperatures. Dust from the swirling storm, which has the potential to blanket the planet, could blur photos from NASA's Curiosity rover and block solar panels on the older Opportunity rover.
"This is now a regional dust storm," Rich Zurek, NASA's chief Mars scientist at the Jet Propulsion Laboratory in Pasadena, CA, said in a statement last week (November 21). "It has covered a fairly extensive region with its dust haze, and it is in a part of the planet where some regional storms have grown into global dust hazes."
The Opportunity rover, which arrived on Mars in 2004 to explore an area of the planet called the Meridiani...
NASA scientists will continue to track the Martian tempest, which is part of a seasonal pattern of dust storms sparked by onset of the Martian spring in the southern hemisphere. "One thing we want to learn is why do some Martian dust storms get to this size and stop growing, while others this size keep growing and go global," Zurek said.