Virus Detected in Human Cell Line
A line of human fetal glial cells is infected with a human polyomavirus, researchers report.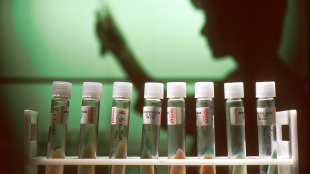 WIKIMEDIA, BILL BRANSONA cell line that has been used since the 1980s is evidently infected with a polyomavirus, according to a report in the July issue of the Journal of Virology. The presence of BK polyomavirus in subpopulations of the human fetal glial line SVG p12, distributed by American Type Culture Collection (ATCC), "may have influenced critical results of previous studies and must be taken into consideration in future studies utilizing these cells," the authors wrote.
It's not clear when the infection occurred, but cell lots dating back to 2006 harbored the virus. Mindy Goldsborough, vice president of the ATCC cell systems business area, said the cell line was originally deposited with ATCC in the mid-80s, and that her company has "no knowledge whether it came to us already harboring this virus."
Christine Hanssen Rinaldo at the University Hospital of North Norway and her colleagues were using the SVG p12 cells to study drugs to treat the human JC polyomavirus, for which these cells are commonly employed. They were surprised when, early on in their experiments, they detected BK viral proteins. Subsequent studies using electron microscopy, PCR, and next-generation sequencing confirmed the presence of the BK polyomavirus.
SVG p12 is the second cell line in as many months that has been reported to harbor an unexpected virus. In the June issue of the Journal of Virology, government researchers demonstrated that the insect cell line Sf9, also distributed by ATCC, houses an unexpected guest, a rhabdovirus. It's not yet clear whether either viral infection has impacted research using the lines.