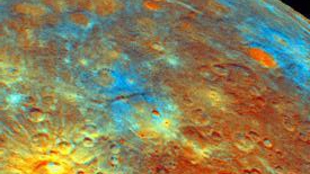 A false-color image of our solar system's smallest planetWIKIMEDIA, NASAMercury, a planet whose surface can reach a temperature of more than 426 °C during the day, is dotted with pockets of water ice, according to NASA scientists who yesterday (November 29) revealed data supporting the long-held hypothesis. The researchers confirmed the presence of water ice on the solar system's smallest planet using NASA's MESSENGER probe, which has been orbiting Mercury for more than a year.
The ice rests at Mercury's polar regions within deep craters where the sun never shines. Temperatures within the ice-filled craters never get warmer than approximately -170 °C.
Researchers have long-suspected ice to persist on Mercury, a hypothesis based on Earth-based radar studies of the small planet. But other substances beside water, such as sulphur, could have explained the bright spots near Mercury's poles seen on the radar.
The instruments onboard MESSENGER, however, present...
"Not only is water the best explanation, we do not see any other explanation that can tie all the data together," David Lawrence, Johns Hopkins University planetary scientist and lead author on the spectrometer study, said at yesterday's press conference.
Interested in reading more?
The Scientist ARCHIVES
Become a Member of
Receive full access to more than 35 years of archives, as well as TS Digest, digital editions of The Scientist, feature stories, and much more!