WIKIMEDIA, NISHIMASU ET AL.The Scientist this week sorted through the complicated CRISPR intellectual property (IP) landscape. While MIT's Feng Zhang was granted the first CRISPR-related IP from the US Patent and Trademark Office, it may be challenged by an application filed previously by Jennifer Doudna of the University of California, Berkeley, and Emmanuelle Charpentier at Germany's Helmholtz Center for Infection Research.
Meanwhile, several biotech companies are using CRISPR technologies to make products for both research and clinical use. Jacob Sherkow of the New York Law School told The Scientist it might be three to five years before the CRISPR IP is settled. "The technology seems so powerful, the technology seems so profitable, and the intellectual property issues seem so irreconcilable that it's a big mystery as to what's going to happen," he said.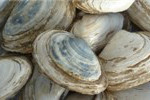 MICHAEL J. METZGERResearchers at Columbia University in New York and...
"We were surprised to have learned that there is even such an example [of contagious cancer] in the marine environment," said Columbia's Stephen Goff, who led the work. "Environmental factors might well increase transmission—either promoting release of the cells or, more likely, the susceptibility of a clam to acquiring and becoming colonized by the cells."
WIKIMEDIA, DANIEL MAYERWhen Ebola patients were transported from West Africa for treatment at Emory University Hospital in Atlanta, Emory immunologist Rafi Ahmed was eager to get his hands on the survivors' samples to probe the human immune response driven by the virus during and after infection.
A paper published in PNAS last month (March 9) detailed "the first look at what's happening to B- and T-cell responses during the acute phase of infection," said Ahmed.
"Anything we learn about pathogenesis is very important," Anthony Fauci, director of the National Institute of Allergy and Infectious Diseases (NIAID) who was not involved in the work, told The Scientist.
DAVID BILDER AND ALEJANDRA FIGUEROA-CLAREVEGA/UC BERKELEYTwo papers published in Developmental Cell this week (April 6) detailed Drosophila models of the wasting disorder cachevxia, homing in on the fruit fly protein Impl2.
"We now have a new model of cachexia that can be used to go deeper in terms of mechanism and therapeutics," said cancer geneticist Ross Cagan of Mount Sinai School of Medicine in New York City who reviewed one of the papers but was not involved in either study.
STEFANO SANTAGUIDA, ANGELIKA AMON, MITCommon mutations that appear to have been under positive selection throughout human evolution may help prevent successful pregnancy in cases of aneuploidy, scientists from Stanford University and the prenatal testing firm Natera showed in Science this week (April 9).
"There's this genetic variant that they've been able to identify with very nice evidence for positive selection, but that has a fitness consequence, a fecundity consequence . . . that decreases the viability of an embryo," said evolutionary geneticist Ed Green of the University of California, Santa Cruz, who was not involved in the work. "It flies in the face of what we think of in terms of positive Darwinian selection and demands an explanation."
Other news in life science:
CRISPR–Enabled Epigenome Editing
Researchers apply the genome-editing technology to alter histones at distant gene enhancers, controlling gene expression.
Ebola Vaccines Protect Monkeys
Two new Ebola vaccine candidates prove safe and effective against the virus in macaques, a study shows.
HIV Antibody Therapy
Delivering antibodies to HIV-infected people can lower levels of the virus, a study shows.
Brontosaurus Regains Dinosaur Status
Paleontologists rescue Brontosaurus from the waste bin of history, suggesting it once again be classified as a distinct dinosaur species.
Another CAR-T IPO
Cellectis goes public for a whopping $228 million—nearly double the value the company filed for in February.
Interested in reading more?
The Scientist ARCHIVES
Become a Member of
Receive full access to more than 35 years of archives, as well as TS Digest, digital editions of The Scientist, feature stories, and much more!