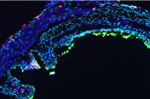 UNIVERSITY OF ROCHESTER, KIHONG LIMNeutrophils that storm the influenza-infected mouse throat leave a trail of chemicals that lead T cells to the site, researchers from the University of Rochester in New York showed this week (September 3) in Science.
"The paper goes very far, using an infection model to not only describe a phenomenon, but to clarify the molecular cascade of events in impressive detail," said Michael Sixt of the Institute of Science and Technology Austria in Klosterneuburg who penned an accompanying commentary but was not involved in the work.
"This study suggests that T cells also don't really know where to go without the help of key innate immune system cells like neutrophils," said immunologist and evolutionary ecologist Andrea Graham of Princeton University who also did not participate in the research.
NASAOver the long term, elevated carbon dioxide (CO2) levels...
"It's an elegant study because they're really using a timeline that's appropriate to the question and I think that nuance of this paper sets it apart from many other papers," said Ruth Gates, a marine biologist at the University of Hawaii who was not involved in the study.
Microbial ecologist Elena Litchman of Michigan State University noted that increased CO2 levels is but one factor associated with climate change. In the present study, the researchers "subjected the species to just one stressor, and the future ocean isn't just going to be one stressor," Litchman, who was not involved in the work, told The Scientist. "Future evolutionary studies would have to include two stressors acting together in different directions."
Other news in life science:
Oliver Sacks Dies
The neurologist and author had written about his recent experiences being "face to face with dying."
PubPeer Founders Revealed
Neuroscientist Brandon Stell identifies himself as one of the creators of the post-publication peer review website, as he and his colleagues announce the nonprofit PubPeer Foundation.
Organ Engineer Cleared of Misconduct
The Karolinska Institute has rejected the conclusions of an earlier, independent investigation, finding regenerative medicine researcher Paolo Macchiarini not guilty of scientific misconduct.
Psychology's Failure to Replicate
Researchers react to the finding that most of 100 studies recently analyzed were not reproducible.
New Journal Opens Research Process
An open-access journal that will publish research ideas, methods, workflows, and software has launched.
Bear Study Breaks Down
Authors retract a paper on grizzlies' metabolism after finding one person made up data.
Interested in reading more?
The Scientist ARCHIVES
Become a Member of
Receive full access to more than 35 years of archives, as well as TS Digest, digital editions of The Scientist, feature stories, and much more!