PETER H. SUDMANTWhile several population genomics studies have examined single nucleotide variants (SNVs), it turns out that humans may harbor even more diversity in terms of copy number variants (CNVs) in their genomes, scientists from the University of Washington and their colleagues reported in Science this week (August 6).
"The take-home message is that we continue to find a lot more genetic variation between humans than we appreciated previously," study lead Evan Eichler of Washington told The Scientist.
Analyzing 236 whole human genomes representing 125 populations, Eichler and his colleagues found that CNVs contributed to far more genomic diversity among peoples than did SNVs.
"Here, [the authors] put in an extra effort, sequencing each genome much more deeply—about 10 times more than what was done in the 1,000 Genomes Project," said Alexander Urban a geneticist at the Stanford School of Medicine, who was...
HONGKUI DENGTwo groups have reprogrammed skin cells into neurons by simply bathing the cells in small-molecule cocktails, according to studies published in Cell Stem Cell this week (August 6). Both teams used similar approaches to create new brain cells-in-a-dish, but applied different chemicals. Now it's up to the stem cell research community to validate the teams' results.
"The inducing efficiency of our approach is comparable with using transgenic reprogramming factors," said Peking University's HongKui Deng, who led one of the teams. "I hope in the future the chemical approaches would be more robust in inducing functional mature neurons."
Jian Zhao, who produced chemical-induced neurons along with colleagues at Shanghai Institutes for Biological Sciences, said the resulting brain cells "show similar morphology, gene-expression profiles, and electrophysiological properties" to neurons derived from pluripotent stem cells, and that "the induction efficiency of our chemical approach is comparable the that of the [transcription factor]-induction protocols."
Biologist Sheng Ding of Gladstone Institute of Cardiovascular Disease and the University of California, San Francisco, who was not involved in the work looks forward to replication studies. "If this is real, it would provide an avenue to understand the mechanism" of neuronal programming, Ding told The Scientist.
Other news in life science:
Ebola Vax Success
An experimental vaccine against Ebola virus disease may completely protect people against infection, according to a clinical study in Guinea.
Judge Decides on GM Rice Retraction
Ethical breaches in a study on the benefits of so-called "golden rice" lead to the paper being pulled from the literature.
Nutrition Researcher Loses Libel Suit
The Ontario Superior Court of Justice rules that the Canadian Broadcasting Company did not commit libel in its documentary series on fraud allegations against Ranjit Chandra.
Subway Microbiome Study Revised
Researchers tone down their highly publicized study that reported the presence of deadly pathogens on New York City subways.
Judge: Chimps Are Not Legal Persons
Animals used in research are property, a New York State Supreme Court justice rules.
Field Bloopers
Scientists air their most embarrassing fieldwork flubs on Twitter.
Interested in reading more?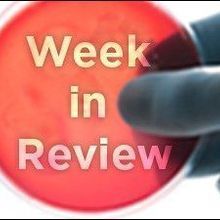 The Scientist ARCHIVES
Become a Member of
Receive full access to more than 35 years of archives, as well as TS Digest, digital editions of The Scientist, feature stories, and much more!