Week in Review: August 4–8
CRISPR corrects mutation behind blood disorder; stress during pregnancy spans generations; neural stem cells develop long axons; propagation of neurodegeneration-associated protein aggregates
WIKIMEDIA, DCRJSRThe blood disorder β-thalassemia is caused by a mutation in the HBB gene, which results in a severe hemoglobin deficiency. Using the CRISPR genome-editing technique coupled with the piggyBac transposon, a team led by investigators at the University of California, San Francisco, successfully corrected the mutation in human induced pluripotent stem cells (iPSCs). Their work was published in Genome Research this week (August 5).
"What's exciting about it is there's a combination of CRISPR technology and the piggyBac system to enable seamless gene correction" in iPSCs, T.J. Cradick, the director of the protein engineering core facility at Georgia Tech, told The Scientist.
GERLINDE METZStress experienced by female rats during pregnancy can leave microRNA (miRNA)-mediated marks on subsequent generations, researchers from the University of Lethbridge and their colleagues have found. The results of the team's study spanning three...
"In the future, we could map an individual's epigenetic signature to understand exposure to prior stress and the history of stress of one's ancestors, which can show susceptibility to a disease," said Washington State University's Michael Skinner, who was not involved in the work.
PLOS BIOLOGY, EUGENE RUSSOBuilding upon their previous work showing that rat neural stem cells (NSCs) can form axons that travel long distances within rodent brains and spines, researchers led by Mark Tuszynski and Paul Lu of the University of California, San Diego, this week (August 7) showed that induced pluripotent stem cells (iPSCs) reprogrammed from aging human cells into NSCs similarly formed long axons that migrated to the site of spinal cord injuries in rats. The group's work was published in Neuron this week (August 7).
"Both studies are very provocative in terms of the amount of axon growth observed," said neuroscientist Philip Horner of the University of Washington who was not involved with the study.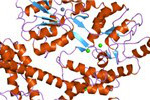 WIKIMEDIA, EUROPEAN BIOINFORMATICS INSTITUTE, JAWAHAR SWAMINATHAN/MSD STAFFAggregates of the Huntington's disease-associated protein huntingtin can spread from neuron to neuron, suggesting one way neurodegeneration might spread, a team led by scientists at the Novartis Institutes for Biomedical Research reported last month (July 13) in Nature Neuroscience.
"This is the first time that diseases involving what are called polyglutamine-expanded proteins have been found to involve a process of transneuronal propagation," Albert La Spada of the University of California, San Diego, School of Medicine who was not involved in the work told The Scientist.

Other news in life science:
Stem-Cell Scientist Dies
Yoshiki Sasai, a prominent organogenesis researcher who was a coauthor on two retracted stem cell studies, has died of apparent suicide at 52, officials say.
Bioethics of Experimental Ebola Treatments
The administration of an experimental serum to two American healthcare workers treated for Ebola on US soil raises questions of safety, efficacy, access, and ethics.
Student Could Be Jailed for Online Post
A Colombian graduate student is being charged with copyright infringement for posting another scientist's thesis online—a crime punishable by up to eight years in jail.
FDA Gets Into the Lab Test Game
So-called laboratory-developed tests will eventually face regulations similar to those that currently govern diagnostic tests or kits that are sold to hospitals.
Inflammation Data Clash
Identical datasets yield opposite conclusions on the use of mice as models of human inflammation.
Narcolepsy-Flu Vax Paper Retracted
A study linking GlaxoSmithKline's Pandemrix H1N1 vaccine to the sleep disorder has been pulled from the literature.
Interested in reading more?
The Scientist ARCHIVES
Become a Member of
Receive full access to more than 35 years of archives, as well as TS Digest, digital editions of The Scientist, feature stories, and much more!