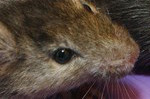 WIKIMEDIA, MAGGIE BARTLETT/NHGRIThe oocytes of obese mouse mothers exhibit mitochondrial defects that can be passed on to offspring, according to a study published in Development this week (February 10). Treatment with an endoplasmic reticulum (ER) stress inhibitor reversed most of the detrimental effects, however, pointing to a potential treatment option if the problem exists in humans.
"It's quite remarkable that simply mediating the ER stress response has such a profound effect on oocyte physiology and can rescue the development defects in the offspring," said Stephanie Pangas, a reproductive biologist at the Baylor College of Medicine in Houston, Texas, who was not involved in the study.
FANNY MAUREThe parasitoid wasp (Dinocampus coccinellae) enlists the body-guarding assistance of its lady beetle victim with the help of a virus its larvae transmit to the bitten insect, according to a study published...
According to lead researcher Nolwenn Dheilly of Stony Brook University in New York, her team's study is the first to find that a virus, D. coccinellae paralysis virus (DcPV), "is involved in the behavioral manipulation by another parasite."
"[DcPV] plays an obvious role in host behavior manipulation, which is spectacular. But it is not known whether this manipulation is required for parasitism success," noted Jean-Michel Drezen at the François Rabelais University in Tours who was not involved in the study.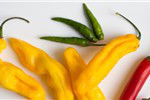 WIKIMEDIA, TAKEAWAYThe compound that gives hot peppers their kick is known to ease pain in a few ways. In a paper published in Science Signaling this week (February 10), researchers detailed the mechanism by which capsaicin produces a numbing effect, helping to dull pain. It all begins with the compound's activation of heat-sensing transient receptor potential vanilloid 1 (TRPV1) ion channels on sensory neurons.
"This is one of the underlying mechanisms of capsaicin's numbing effect, but TRPV1 is a heat sensor, so how it affects mechanical pain was not known," said Tibor Rohacs, an associate professor of pharmacology and physiology at Rutgers New Jersey Medical School who led the work.
"This work links how a chemical stimulus can indirectly influence a mechanical process, at least at the cellular level," said Philip Gottlieb, a biophysics researcher at the University of Buffalo in New York who was not involved in the work.
Culture Friday:
Microbial Masterpieces
Artist Anicka Yi explores the beauty of bacteria.
Q&A: A Taste for Science
A conversation with biophysicist Christophe Lavelle
Other news in life science:
FDA Head Leaving Post
US Food and Drug Administration commissioner Margaret Hamburg is stepping down after six years on the job.
Lab Size Study Stirs Debate
Do bigger labs churn out more high-impact papers? Not necessarily, according to a new analysis.
Clinic Trial Problems Kept Mum
Despite documented dysfunction in a number of studies, rarely do those problems get a mention in the resulting publications, according to a new study.
Trapped in Time
Ancient sulfur-eating deep-sea bacteria closely resemble modern variants, suggesting evolution may not occur in static environments.
Finch Findings
Full genomes of Darwin's Galápagos finches reveal a critical gene for beak shape and three overlooked species.
Interested in reading more?
The Scientist ARCHIVES
Become a Member of
Receive full access to more than 35 years of archives, as well as TS Digest, digital editions of The Scientist, feature stories, and much more!