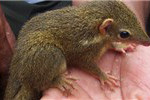 WIKIPEDIA, W.DJATMIKOUniversity College London's Mario dos Reis and his colleagues presented evidence this week in Biology Letters to suggest that placental mammals originated while dinosaurs were dominant, contradicting a the conclusions of a Science paper published last year. Both groups performed extensive molecular clock analyses, yet arrived at different conclusions. According to dos Reis, the Science study was flawed because the researchers took the age of the oldest fossil from various placental groups to be the age of the group itself. But Maureen O'Leary from Stony Brook University, who led the study in question, countered, telling The Scientist that "the real test belongs in the field," as researchers unearth more fossils.
"There's nothing really wrong with either set of analyses," said Olaf Bininda-Emonds from the University of Oldenburg, who was not involved in either study. "Both are robust. The real problem is that the methods are...
WIKIMEDIA, YTAKA TSUTSUMIIn a study of two populations of people in Columbia with distinct ancestry that are considered poster children for gastric cancer research, Barbara Schneider of Vanderbilt University Medical Center and her colleagues found that Helicobacter pylori strains that shared ancestry with their human hosts were less likely to cause severe disease. The researchers noted in PNAS this week that their work provides evidence of co-evolution between the pathogen and its human host.
"For the first time, [this study] suggests that we have to take the ancestry of both host and microbe into the equation," said Emad El-Omar, a gastroenterologist and cancer biologist at the University of Aberdeen, who was not involved in the work.
WIKIPEDIA, ALVESGASPARAnt, bee, and wasp queens emit a similar class of pheromones that sterilize their workers, scientists have found, noting that this points to a potential shared ancestry for these chemicals. The University of Leuven's Annette Van Oystaeyen and her colleagues presented evidence in Science this week to suggest that queen pheromones repeatedly evolved from chemicals found in the solitary ancestors of social insects.
"It's all quite speculative, but we see that these hydrocarbons are also fertility signals in a lot of solitary and social species," Van Oystaeyen told The Scientist. "We think that these fertility cues were used to attract males, and then gained an extra function when these groups evolved eusociality."
COURTESY OF RALPH WEISSLEDERInvestigators from Massachusetts General Hospital presented in Science Translational Medicine this week an approach that enables the in-depth characterization of protein expression in small numbers of cells. With this platform, scientists can also interrogate DNA, RNA, and proteins from the same sample, the team said.
"Now [the approach] needs to be put through the rigor of field testing, and it also has to be put into other peoples' hands because it needs to be shown that it can work in other laboratories," said Mark Rubin, who directs the Institute for Precision Medicine at Weill Cornell Medical College and New York Presbyterian Hospital, and was not involved in the research.
Other news in life science:
New Budget Bill Short Shrifts Science
The omnibus spending bill unveiled by US Congress this week would restore some research budgets cut by sequestration, but critics say it's not enough.
$1,000 Genome at Last?
Illumina says its newest sequencing system can churn out whole human genomes for $1,000 apiece.
Toxin Evolution
Researchers show that scorpion venom toxins are closely related to defensive proteins from venomous insects.
Gut Microbes Prevent Locust Swarms
Migratory locusts are less likely to aggregate into crop-devastating swarms when infected by the parasite Paranosema locustae.
GeneLink Settles
Another personal genomics company faces government pressure—this time from the Federal Trade Commission.
Interested in reading more?
The Scientist ARCHIVES
Become a Member of
Receive full access to more than 35 years of archives, as well as TS Digest, digital editions of The Scientist, feature stories, and much more!