FLICKR, JOHN MARTINEZ PAVLIGARussian biochemist Dmitry Kuznetsov has been accused repeatedly of research misconduct since the mid-1990s. From work on the mRNA of wild timer voles to the carbon dating of the Shroud of Turin, the legitimacy of Kuznetsov's research has been questioned by fellow scientists. He has never been formally investigated, and none of his papers appear to have been retracted, but researchers were still concerned to learn that he now heads two peer-reviewed journals launched in 2011 by open-access publisher ScienceDomain.
The accusations against Kuznetsov, if true, amount to "one of the worst fraud records in the history of science," Dan Larhammar, a professor at Uppsala University in Sweden, told The Scientist. "That should be a major concern to" the publisher that recruited Kuznetsov as editor-in-chief, he said.
WIKIMEDIA, REYTANOne of the functions of fat...
"It looks like classical brown fat cells depend on wiring from the nervous system, but white cells and beige fat cells seem to respond directly to temperature," said Bruce Spiegelman, a cell biologist at Harvard Medical School and the Dana-Farber Cancer Institute in Boston, Massachusetts, who led the new study. "What this is means is that fat cells have a completely unstudied signaling system that ends up in activation of thermogenesis."
FLICKR, ANDREAS ELDHResearchers at the University of Wisconsin-Madison, the Institute for Molecular Engineering of the University of Chicago, and Arizona State University implore scientists to take advantage of the growing social media movement to communicate with the public. In a survey of nanotechnology researchers, the team found that not only did interactions with journalists boost a scientist's success, but that this impact was greater for those that were mentioned on Twitter.
"Our results indicate that public communication efforts are linked to academic impact and that social media can augment more traditional forms of public communication, such as scientist-journalist relationships," the authors wrote in an opinion piece on www.the-scientist.com. "Moving forward, the essential question is no longer whether scientists should engage with the media, but how to do so effectively."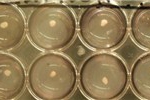 TAKANORI TAKEBECombining liver cells derived from human induced pluripotent stem cells (iPSCs) and two other developmentally important cell types results in the spontaneous formation of liver buds that, when transplanted into mice, connect with the host circulatory system, according to research published this week. In vitro analyses also revealed that the iPSC-derived liver buds had similar gene expression profiles to human fetal liver tissue, had higher levels of the liver metabolite human serum albumin than those produced by other iPSC-derived hepatocytes, and processed certain drugs in a way that mirrored human metabolism.
The researchers are hopeful that the new technique could one day help solve the ongoing organ shortage that has more than 100,000 people awaiting transplants. "If you could use iPSCs to generate a truly functioning organ, then you would have this unlimited suitcase of spare parts that would be genetically matched to individuals," said Stephen Duncan, the director of the Regenerative Medicine Center at the Medical College of Wisconsin, who did not participate in the research. But before that can happen, the team must figure out how to scale up the process to human-sized livers, which will need to establish extensive vasculature very quick to avoid organ death from oxygen starvation.
WIKIMEDIA, SHORELANDERAntibiotics are designed to kill bacteria, but what about the bacteria we harbor in our own cells—namely, the mitochondria. Believed to be the product of an ancient endosymbiosis event, the mitochondria are also susceptible to antibiotics' killing power, according to new research. Specifically, human cell lines treated with established antibiotics resulted in the increased production of reactive oxygen species (ROS) in the mitochondria, which subsequently lead to dysfunction.
"Coupled with the concerns about drug-resistance," said Jim Collins, a professor of biomedical engineering at Boston University who led the study, "one should only use antibiotics when you really need antibiotics." The researchers also showed that an antioxidant called N-acetyl-L-cysteine could protect the mitochondria against such damage, without decreasing the killing power of the antibiotic, but the same was not true of other antioxidants, which made the treatments less effective.
Other news in life science:
Dodgy Data Underpin Stem Cell Trial
The patent application behind a controversial Italian treatment for neurodegenerative disease may contain duplicated images.
"Bigfoot" Samples Yield Opossum DNA
Supposed Sasquatch samples turn out to be a mix of opossum and other known species, according to a new analysis.
Dutch Fraudster Scientist Avoids Jail
Disgraced social psychologist Diederik Stapel will avoid a trial in Dutch court for fabricating data on dozens of scientific papers.
The United Kingdom is drawing up draft guidelines for mitochondrial transfer procedures to prevent mothers passing on diseases to their children.
Fly Leg Sensors Recognize Mates
Male fruit flies use a sensory system in their legs to help determine whether a potential mate is from a different species.
The recently announced science budgets for the UK and the larger EU are protected from major cuts but still disappoint some research advocates.
Interested in reading more?
The Scientist ARCHIVES
Become a Member of
Receive full access to more than 35 years of archives, as well as TS Digest, digital editions of The Scientist, feature stories, and much more!