WIKIMEDIA, GRAHAM BEARDSIn the face of repeated exposure to ampicillin, populations of Escherichia coli quickly evolve tolerance for the drug, springing back to life once antibiotic treatment has stopped, according to a study published in Nature this week (June 25). Researchers from The Hebrew University of Jerusalem in Israel repeatedly exposed cultures of E. coli to high concentrations of ampicillin. Within as few as 10 cycles, the team found that some bacteria had survived the antibiotic treatments by lengthening the period of time they stay dormant.
"So far we've been familiar with tolerance conferred by dormant persister cells. This is a new phenomenon, extended lag, where mutants have a longer lag time, and that extended lag allows them to survive an attack by antibiotics," said microbiologist Kim Lewis, director of the Antimicrobial Discovery Center at Northeastern University in Boston, who was not involved in...
PIXABAY, VIELEINERHUELLEWood-decaying fungi have long been classified by whether they degrade just cellulose or both lignin and cellulose, but a study of fungal genomes published in PNAS this week (June 23) suggests that classifying such species might not be so brown-and-white. In its paper, a team of investigators from the US Department of Energy's Joint Genome Institute suggested there may exist "a continuum rather than a dichotomy between the white-rot and brown-rot modes of wood decay."
"There was a lot of suspicion within the scientific community that the decay mechanisms wouldn't be as straightforward as they're currently classified, but the data wasn't quite there," said Dan Eastwood, a fungal biologist at Swansea University in Wales, who was not involved with the work. "This study brings more genomes to the point where we are plugging important gaps to say it's more complicated than [just two kinds of rot]."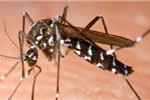 CDC, JAMES GATHANYSince December, health departments in Florida, Indiana, North Carolina, Nebraska, and Tennessee have reported cases of chikungunya virus infection. The US Centers for Disease Control and Prevention has sounded the alarm: chikungunya, while not fatal, is a public-health threat.
The Scientist first reported on chikungunya in 2006, when an outbreak was ravaging the Caribbean island of Reunion and it was found that the RNA virus was being spread by both Aedes aegyptii and A. albopictus. Today, researchers are still working to trace the virus's path from the Caribbean into the U.S., in hopes of better predicting its future.
More news:
Speeding Up Antiviral T Cell Production
Scientists come up with a simpler, more efficient strategy for making multivirus-targeting T cells for immunotherapy.
Protein Clumps Spread Inflammation
ASC specks—protein aggregations that drive inflammation—are released from dying immune cells, expanding the reach of a defense response.
Targeted Brain Cancer Vaccine
Mouse study demonstrates the ability of a cancer vaccine targeted against a specific oncogenic mutation to elicit a protective anti-tumor immune response.
Other news in life science:
RIKEN Review Yields Corrections
An institution-wide investigation into labs at the Japanese research institute results in three corrections to papers published in Molecular and Cellular Biology between 2005 and 2010.
CDC Anthrax Researcher Reassigned
The US Centers for Disease Control and Prevention takes its first disciplinary action in the wake of the biosecurity oversight that potentially exposed 75 agency scientists to anthrax.
Retracted GMO Study Republished
A controversial study that found health problems in rats exposed to genetically engineered maize returns to the scientific literature.
Agreement Reached in Lab Fire Case
A University of California, Los Angeles chemist facing criminal charges after a lab accident that killed his research assistant in 2009 avoids a public trial and jail time.
Mobile Microbiome
Cell phones are populated with many bacteria commonly found on users' hands.
Interested in reading more?
The Scientist ARCHIVES
Become a Member of
Receive full access to more than 35 years of archives, as well as TS Digest, digital editions of The Scientist, feature stories, and much more!