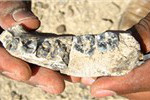 KAYE REEDScientists from the University of Nevada and their colleagues have unearthed a fossilized mandible and teeth of a 2.75 million- to 2.8 million-year-old hominin, thought to be among the earliest Homo species. Their analysis of the specimen, discovered in Ethiopia two years ago, was published in Science this week (March 4).
"It is a remarkable new fossil discovery from a really poorly understood timeframe in human evolutionary history," said biological anthropologist Darryl de Ruiter of Texas A&M University who was not involved in the research. Previously, "the earliest really reliable fossil evidence we had for the appearance of Homo was about 2 million years old," he added.
G. PYRGIOTAKIS ET AL.A team led by investigators at Harvard has developed an approach—using water nanostructures in an electrospray—to kill foodborne microbes. They described the new method in Environmental Science & Technology last month (February 19)....
Hongda Chen, acting deputy director at the US Department of Agriculture's National Institute of Food and Agriculture who was not involved in the work told The Scientist that "using nanoscale water droplets to inactivate pathogenic bacteria is an innovative approach, and these early results show its effectiveness and great potential for improving the microbial safety of food supply as well as the sanitation of food-processing surfaces."
"Consumers want more chemical-free, biofriendly approaches for their food. With this method, there are no residues to worry about, and in three to four hours, everything becomes water vapor again," explained nanoengineer Philip Demokritou of the Harvard School of Public Health, who led the research.
Other news in life science:
HHS Rolls Out Public Access Plans
The US Department of Health and Human Services outlines how the National Institutes of Health and its other agencies will make research results public.
NCI Head Stepping Down
Harold Varmus, who has led the US National Cancer Institute since 2010, is leaving his appointment at the end of the month.
Engineering TB-Resistant Cows
Scientists add a mouse gene to the cow genome to ward off bovine tuberculosis.
Pleasure To Smell You
People tend to sniff their mitts after shaking hands with someone of the same sex, suggesting that the traditional greeting may transmit chemosensory signals.
Risky Research Halted at Tulane
Federal officials suspend research on certain pathogens at Tulane University following the escape of potentially dangerous bacteria from a high-security lab.
Interested in reading more?
The Scientist ARCHIVES
Become a Member of
Receive full access to more than 35 years of archives, as well as TS Digest, digital editions of The Scientist, feature stories, and much more!