WIKIMEDIA, KEN HAMMOND, PD-USGOV-USDAWhether and for how long a baby is breastfed appears to affect the development of the infant's gut microbiome, according to a study published in Cell Host & Microbe this week (May 13). Researchers from the University of Gothenburg in Sweden and their colleagues examined the composition of 98 babies' microbiomes over time, identifying "more than 4,000 new microbial genomes" as part of this project, lead author Fredrik Bäckhed of Gothenburg told The Scientist.
The idea that "stopping breastfeeding—rather than introducing solids—drives maturation is a new idea, because we all thought so far that solids introduction was a key factor in changing the microbiota," said microbiologist Maria Gloria Dominguez-Bello of the New York University School of Medicine who was not involved in the work.
PNAS, E.A. FRANZOSA ET AL.Scientists from the Harvard School of Public Health and their colleagues...
"Each of us personally has a specific set of bugs that are an extension of us, just the same way that our own genome is a part of what defines us," explained coauthor Curtis Huttenhower of Harvard.
Of course, being able to identify people in this way raises some ethical concerns. Down the line, said Mark Gerstein of Yale University who was not involved in the work, "people might increasingly want to put the microbiome data under the same type of protection that they put normal genomic variants under."
"Your microbiome is associated with various disease risks and proclivities for X and Y," Gerstein added. "It potentially says things about you."
NATURE COMMUNICATIONS, CASTRO DOPICO ET AL.The expression of genes in human immune cells varies with the seasons, investigators from the University of Cambridge and their colleagues reported in Nature Communications this week (May 12). The finding could help explain the apparent seasonality of both infectious diseases and chronic conditions.
The results demonstrate that "timing information must be taken into account when assessing gene expression and immune-related information, not only in the daily time scale, but also according to the time of year," said Nicolas Cermakian of McGill University in Montreal, Canada, who was not involved in the work.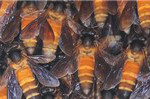 WIKIMEDIA, DR. AJAY BALACHANDRANIn a comparative genomic analysis, Karen Kapheim of Utah State University and her colleagues found genetic evidence underlying the evolution of eusociality across 10 bee species. The study revealed a "clear pattern of increased potential for gene regulation" in eusocial bees, said Kapheim.
"By doing this comparative analysis they show several clear changes associated with the evolution of the two eusocial groups of bees [including] changes in the regulation of gene expression," said evolutionary ecologist Laurent Keller of the University of Lausanne in Switzerland who was not involved in the work. "Bees are highly social and we are highly social . . . so it's interesting to see what are the mechanisms that lead to the evolution of such a complex system."
Other news in life science:
EC Gets Science Panel
The European Commission unveils a plan to install a team of science advisors to guide policymakers.
Targeting Protein Domains with CRISPR
Researchers use the genome-editing tool to mutate binding pockets and identify potential anti-cancer drug targets.
Organoid Biobank
From the tissue of numerous colon cancer patients, researchers build 3-D cultures of tumors.
Estimating Epigenetic Mutation Rates
Generation-spanning maps of Arabidopsis thaliana DNA methylation allow researchers to compute how quickly epigenetic marks appear and disappear in the plant's genome.
Interested in reading more?
The Scientist ARCHIVES
Become a Member of
Receive full access to more than 35 years of archives, as well as TS Digest, digital editions of The Scientist, feature stories, and much more!