WIKIMEDIA, RSABBATINIMalaria parasites are less virulent to rodent hosts if they've been delivered by a mosquito vector, according to new research published this week (May 29) in Nature. The exact mechanism for the change in virulence is unclear, though it correlates with a protective immune response and the altered expression of a set of antigen-encoding genes, which may serve as promising vaccine targets.
"This is an extraordinarily stimulating paper, and should be the start of quite a lot of new work," Andrew Read of Penn State University told The Scientist. "These results suggest that genes that are being affected by the mosquito transmission route are key players in determining how nasty the parasites are and how sick people get."
WIKIMEDIA, AREYNDon't neglect your grant-review duties, argue David Irwin, Stephen A. Gallo, and Scott R. Glisson of...
Bird flu update: transmissibility and resistance
WIKIMEDIA, THEGREENJ
The H7N9 bird flu virus currently circulating in China is transmissible between ferrets, according to a paper published yesterday (May 24) in Science. Though no cases of human-to-human transmission have yet been document, ferrets often serve as animal models for studying how flu might behave in humans, raising concerns that the virus, which has infected 131 people and killed 36, could become contagious between humans.
Meanwhile, a new study in The Lancet suggests that the H7N9 virus has already developed resistance to antiviral drugs, with three out of 14 patients failing to respond to the treatment. Two of them died. "The apparent ease with which antiviral resistance emerges in H7N9 viruses is concerning," the authors wrote; "it needs to be closely monitored and considered in future pandemic response plans."
WIKIMEDIA, BRYAN PREADY
A small but vocal minority in the European Union that opposes the use of genetically modified (GM) crops is hurting the countries' best hope to feed its future population, according to a group of researchers at the University of Lleida-Agrotecnio in Spain and TRM Ltd in the United Kingdom. GM crops can grow well in harsh environments where conventional crops cannot and can be protected from weeds and pests by environmentally-safe herbicides and the production of pest-specific toxins. Furthermore, they added, GM crops were declared safe by the EU's own scientific bodies. "But there is one environment that seems insurmountably hostile to GM crops," they wrote—"the European Union."
"There is no rational scientific reason for importing GM foods from abroad when the same plants could be grown at home," they wrote. "So why are these food crops not flourishing in Europe's rich agricultural lands?" And unfortunately, "the EU cannot grow enough food or feed to sustain its own population using conventional agriculture, so banning the growth of GM crops comes at a great expense."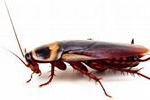 WIKIMEDIA, UNITED STATES EPACockroaches have lost their attraction to glucose, a standard component of insecticide-laden baits, making it difficult to eradicate the pests from homes nationwide. But now scientists have figured out why roaches avoid this once-desired food, leading to hope that more effective traps can be set in the future. Specifically, the study found that roaches that avoid glucose actually find its taste bitter. "We've known about this form of behavioral resistance for a long time, but there really hasn't been an explanation as to exactly how this behavioral change occurred," Michael Rust, a professor of entomology at the University of California, Riverside, told The Scientist. "This is a nice elegant little study that shows there has been a remarkable change in how the bitter and sweet receptors are working in the mouthparts of the cockroach."
Other news in life science:
Ruffled Feathers over a Viral Patent
The researchers who first identified a novel coronavirus say they have shared the virus freely.
Pregnant mice exposed to the chemical used in many plastics have offspring with behavioral abnormalities.
GM Salmon and Wild Fish Can Reproduce
Genetically modified Atlantic salmon, which could soon become the first transgenic animal sold as food in the U.S., can breed with wild brown trout to produce a GM hybrid.
The International Institute for Species Exploration at Arizona State University reveals its list of the top 10 new species of 2012.
Lavish Spending at MD Anderson
The public cancer center is criticized for allegedly devoting at least $1.5 million to remodeling an executive suite.
Correction (May 31): This story has been updated to reflect that mosquito vectors decrease, not increase, the virulence of the malaria parasite. The Scientist regrets the error.
Interested in reading more?
The Scientist ARCHIVES
Become a Member of
Receive full access to more than 35 years of archives, as well as TS Digest, digital editions of The Scientist, feature stories, and much more!