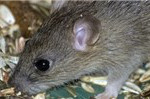 FLICKR, BERIT WATKINA set of microRNAs (miRNAs) in the sperm of stressed male mice is associated with an altered stress response in the mammals' offspring, a team led by investigators at the University of Pennsylvania showed in PNAS this week (October 19).
The study "shows a very nice role for noncoding RNA at the early embryonic stage for transmission of the transgenerational phenotype," said Michael Skinner of Washington State University who was not involved in the study.
Skinner said he wonders whether the same phenotype might be transmitted to the stressed animals' offspring's offspring. "Probably the most important thing in terms of a limitation is this, and most of the other previous studies like it, did not try to go out to the next generation," he told The Scientist.
ADRIAN SANBORN, NAJEEB TARAZI, EREZ LIEBERMAN AIDEN, BAYLOR COLLEGE OF MEDICINECTCF binding indeed appears...
"The finding that CTCF sites at anchor points tend to be convergent is a very important clue as to the mechanism of loop formation, and this finding is a strong indication of a tracking mechanism as postulated by the extrusion model," the University of Oxford's Kim Nasmyth, who did not participate in the research, wrote in an email.
"Their findings provide further evidence that it is the loops . . . that play the role of the spatial confinements which, in turn, help the cell achieve astonishingly high rates of remote genomic associations, including those of enhancers and promoters," said Olga Dudko of the University of California, San Diego, who was also not involved in the work.
WIKIMEDIA, NIAIDResearchers from the National Institute of Allergy and Infectious Diseases (NIAID) and their colleagues have identified a bispecific antibody-like protein that targets inactive CD4+ T cells, in which HIV can lurk. The team described its findings in Nature Communications this week (October 20).
The protein, VRC07-αCD3, must be further validated before it can be tested in the clinic. While preliminary results in rhesus macaques showed promise, "this type of treatment is not risk-free," said Caltech virologist Pamela Bjorkman, who was not involved in the work. One of the biggest concerns is that such an approach could elicit a potentially dangerous cytokine storm.
WIKIPEDIA, DR. S. GIROD, ANTON BECKERIs GDF11 an "antiaging protein," as it has been called? Dueling studies in the last two years called the molecule's presence—and effects—throughout aging into question. (See "Blood Protein Rejuvenates Aging Heart," The Scientist, May 10, 2013, and "Studies Conflict on Regenerative Molecule," The Scientist, May 19, 2015.) A new analysis published this week (October 21) in Circulation Research aimed to make sense of the contrasting data.
Researchers from the Brigham and Women's Hospital in Boston and the University of Cincinnati, Ohio, pointed to discrepancies in Western blot interpretation and GDF11 dose concentration between past experiments. They showed that, in the mouse heart, GDF11 deceases with age.
"I think a lot of this is, early on in the field the reagents aren't perfect, the assays aren't perfect, so people get results that look like they're opposing each other," said Richard Lee of Harvard Medical School, whose group previously found that GDF11 decreases with age in mice. "We need better assays; we need more science; we really just need to do more work."
V. ALTHOUNIAN, SCIENCE TRANSLATIONAL MEDICINEWhile T cells were previously considered the primary drivers of inflammation in multiple sclerosis (MS), it turns out that B cells, too, can produce a factor that induces an inflammatory response. Researchers from McGill University in Montreal showed in Science Translational Medicine this week (October 21) that a set of B cells produces the inflammation-inducing cytokine granulocyte macrophage–colony stimulating factor (GM-CSF), which may spur MS-associated inflammation.
"This is an important paper and among the first to study the role of B cells in MS, which has predominantly been studied from a T cell perspective," Claudia Mauri of University College London who was not involved in the work told The Scientist. "The immune system is very complex. All cells communicate and influence each other in a tissue-dependent way," she added. "This study should raise more interest for other researchers to study the role of B cells in immune diseases."
WIKIMEDIA, JAMES GATHANYLeishmania-derived exosomes in the guts of the parasites' sand fly hosts can spur increased inflammation and bolster parasite numbers during infection, researchers from McGill University and their colleagues showed in Cell Reports this week (October 22).
The study "reinforces the point that sand flies are not just flying syringes; they don't just deposit parasites and nothing else," said NIAID's David Sacks, who was not involved in the study.
"We have to start really thinking about how these pathogens initiate infection and how can we thwart these different mechanisms," said Nathan Peters of the University of Calgary, Canada, who was not involved in the work.
Other news in life science:
Following FDA OK, 23andMe to Expand Health Prediction
The personal genomics firm is ramping up its suite of disease-related genetic tests.
Artificial Skin Communicates with Neurons
A new flexible sensor can detect touch and generate electrical pulses that signal intensity of pressure to mouse neurons in vitro.
Buzzed Honeybees
Caffeinated nectar makes bees more loyal to a food source, even when foraging there is suboptimal.
News from SfN
Highlights from the Society for Neuroscience 2015 meeting held in Chicago
Interested in reading more?
The Scientist ARCHIVES
Become a Member of
Receive full access to more than 35 years of archives, as well as TS Digest, digital editions of The Scientist, feature stories, and much more!