WHO: Ebola Emergency Over
While additional flare-ups may occur, the World Health Organization says countries now "have the capacity to respond rapidly to new virus emergences."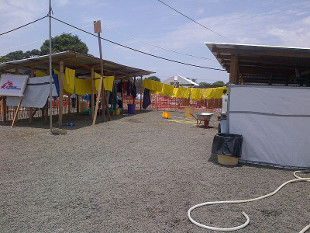 Doctors Without Borders/Médecins Sans Frontières Ebola treatment unit in LiberiaWIKIMEDIA, CDCThe Ebola epidemic that plagued West Africa for the better part of two years is no longer a public health emergency of international concern, the World Health Organization (WHO) announced yesterday (March 29), noting new clusters of infection may "continue to occur due to reintroductions of virus as it is cleared from the survivor population, though at decreasing frequency." (See "Ebola's Immune Escape," The Scientist, November 3, 2015; "Persistent Virus," The Scientist, October 15, 2015.)
Earlier this month (March 18), the agency confirmed two cases of Ebola in Guinea. Both patients, a mother and son, had been in contact with relatives who had died of unexplained causes. According to the WHO, the last cases linked to the original chain of Ebola transmission in Guinea twice tested negative on March 27. Health officials continue to monitor patient contacts in the country, as well as in Liberia and Sierra Leone.
"Ebola transmission in West Africa no longer constitutes an extraordinary event, that the risk of international spread is now low, and . . . countries currently have the capacity to respond rapidly to new virus emergences," the WHO said in its statement.
Update (April 5): The WHO on April 1 confirmed a case of Ebola in Liberia: a 30-year-old woman died while being transferred to a hospital in Monrovia, the organization announced.