WHO: Ramp Up Vaccination
The World Health Organization is calling for an increase in routine vaccinations for measles and other preventable diseases in Ebola-affected countries.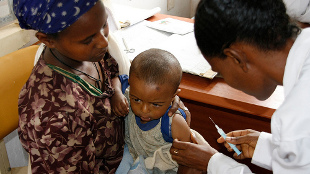 DFID, PETE LEWISCiting heightened risk of measles and other disease outbreaks in Ebola-affected countries, the World Health Organization (WHO) is calling for an increase in routine vaccinations in areas now free of Ebola transmission.
"Mass vaccination campaigns for measles in areas that are free of Ebola transmission should be implemented to reduce the risk of significant measles outbreaks," the WHO noted in a statement issued last week (March 20).
Earlier this month (March 13), a team led by investigators at the Johns Hopkins Bloomberg School of Public Health in Baltimore, Maryland, estimated the impacts a drop in measles vaccination rate could have on populations in regions affected by the ongoing Ebola epidemic. "There is a clear path to avoiding outbreaks of childhood vaccine-preventable diseases once the threat of Ebola begins to recede: an aggressive regional vaccination campaign aimed at age groups left unprotected because of health care disruptions," the authors wrote in their paper, published in Science.