WIKIMEDIA, MASTERMARTE
Some homes in the United States still teem with potentially dangerous chemicals that were banned years ago, researchers have found. And they're coming from the most comfortable seat in the house. For example, the flame retardant PentaBDE, which belongs to a group of compounds called polybrominated diphenyl ethers (PBDEs) and was used to make sofas less flammable until being phased out by the U.S. and European Union in 2004, can persist in household dust for years, according to one recently published study that sampled California homes. Another recent study, published in Environmental Health Perspectives, showed that PentaBDE affects concentration and IQ in children whose mothers were exposed during pregnancy.
"We're building a body of evidence that these PentaBDEs are associated with adverse outcomes," Brenda Eskenazi, director of the Center for Environmental Research and Children's Health at the University of California, Berkeley, and a co-author of that study,...
These and other recent studies also point to another disturbing pattern: even when chemicals like PentaBDE are recognized as harmful and phased out of the manufacturing process for household items, other compounds, which are often related and could be equally harmful, take their place. In addition to finding PentaBDE in the 16 California homes they sampled over the course of 5 years, epidemiologist Julia Brody and toxicologist Ruthann Rudel of the Silent Spring Institute in Newton, Massachusetts, and their colleagues found 13 other chemicals that are closely related to PentaBDE.
In a separate study, Duke University researchers found PBDEs in 39 percent of the couches they sampled bought before 2005 across the U.S. Another 24 percent of those samples contained other flame retardants that are potentially damaging to health.
The problem is particularly prevalent in California, due to the state's strict laws governing the manufacture of household items in a way that makes them resistant to fires. "The problem with the standard now is it can only be met by adding the chemicals," Rudel told Nature. "The bigger problem is there isn't a requirement for some kind of assessment of the safety of chemicals that are used" before being added to products.
Interested in reading more?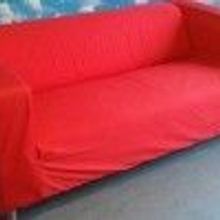 The Scientist ARCHIVES
Become a Member of
Receive full access to more than 35 years of archives, as well as TS Digest, digital editions of The Scientist, feature stories, and much more!