Researchers at Stanford University have miniaturized the chemostat, a device widely used as a steady culture environment for bacterial cultures.1 Using only 16 nanoliters of culture media (nearly 109 less volume than conventional chemostats), the "microchemostat" avoids the problem of biofilm, which grows on chemostat walls and ultimately leaks into the culture media, causing contamination.
The group worked out a cleaning scheme in which one of the device's six independent reactors is closed off from the rest, flushed with lysis buffer, and then reattached to the growth loop, allowing semicontinuous circulation and growth. The process proceeds sequentially until each reactor has been cleaned. "We were trying to work out passive schemes to protect the surface, but none worked well enough" says study coauthor Stephen Quake.
Unlike its macrosized parent, the microchemostat can interface with a microscope, creating a new way to observe bacterial growth with single-cell resolution. Quake...
Interested in reading more?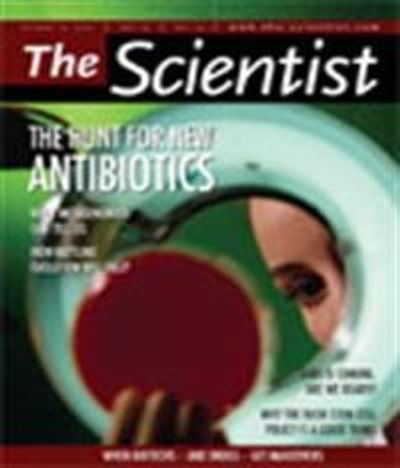 Become a Member of
Receive full access to digital editions of The Scientist, as well as TS Digest, feature stories, more than 35 years of archives, and much more!