Am I a biohazard?
Brooklyn, New York, April 21, 19:00 hours: Molecular biologist Ellen Jorgensen and I spread a plastic tarp over my cherry table and parquet floor. Then, one by one, we set vials and pipettes down, preparing a lab in my living room. We had dubbed it DNA and Pizza Night on the DIYbio message board, inviting aspiring amateur geneticists to gather and learn the rudiments of bioengineering. Not a bad deal either—a lab followed by beer and pizza, all for $10 per person.
As the aficionados and the curious made their way to my Brooklyn home, Jorgensen and I laid out our genetic-makeover patient, a sealed Petri dish of E. coli. It was our first meeting working with live bacteria, and it had already taken on an...
In May, The Wall Street Journal asked whether amateur gatherings like ours were "a threat to national security." The Boston Globe cautioned that do-it-yourselfers raised "fears that people could create a deadly microbe on purpose." And an article in Systems and Synthetic Biology warned that we might engineer bacteria to produce cocaine in the way that bacteria are now being used to produce antimalarials (Syst Synth Biol, 2:1–6, 2008).
DNA and Pizza Night, a cocaine ring? It all seemed a little far-fetched. But the week of our gathering, reporters were already calling and emailing, including one from The New York Times Magazine, who asked to join us for the event. For my own part, I'd gone to the first meeting of the New York DIYbio chapter at a diner on the Upper West Side out of curiosity. When only four of us came, I'd become a founding member by default.
It wasn't a bad deal—a lab followed by a beer and pizza, all for $10 per person.
Ten people showed up that night, including a lawyer, physics student, installation artist, architect, and three reporters. Feeling slightly tense under the reporters' scrutiny, we circled around Jorgensen, an assistant professor of clinical research at New York Medical College, as she used a loop to collect colonies of the innocuous K-12 strain of E. coli from the Petri dish and deposit them in an iced vial of calcium chloride. This was the first step in cajoling the bacteria into accepting a new set of DNA instructions, providing us with an opportunity to teach our small audience about lab safety and basic principles of genetic engineering. We'd eventually graduate into creating something new. For now, our materials came from a high school biology lab teacher's kit.
Amateur bioengineers suffer from an image problem. We operate outside the confines of an academic institution in a science that is bounding ahead of legislation, not unlike the International Genetically Engineered Machine (iGEM) competition at MIT. Every summer, college teams are sent toolkits of DNA parts, a lot like sets of biological Lego bricks, and asked to build something new and beneficial. Last year, the winner created a vaccine for ulcers.
It's not a coincidence that a former iGEM staffer, Mackenzie Cowell, cofounded our umbrella organization, DIYbio. But it came as a blow when the iGEM leadership disqualified the group from entering this year's competition. Their reasons were many, but one had an all too familiar ring: amateur teams were a liability until they could vouch for the safety of their projects. "We had to think about safety infrastructure," iGEM's assistant director Meagan Lizarazo told me. Groups like ours were crippled without access to iGEM's toolkit of DNA parts.
No one was harmed at my apartment though, not even a burn. K-12 E. coli has been a favorite in labs since 1922 because it's unable to compete with wild E. coli and safe enough to handle without gloves. After 15 minutes on ice, we shifted the vial into a bowl of 42-degree Celsius water, and heat shocked the E. coli for 90 seconds. The temperature shift opened the pores on its membrane, allowing foreign DNA containing GFP to slip inside.
A few minutes later, we smeared the bacteria onto a fresh Petri dish. The 2-hour lab complete, the last thing left to do was eat pizza. We disposed of our materials in a bucket of bleach and moved to the kitchen. Jorgensen took the resultant Petri dish home with her to incubate.
Two days later, she emailed us all a snapshot for the album: under black light, our E. coli glowed like little green pearls.
Interested in reading more?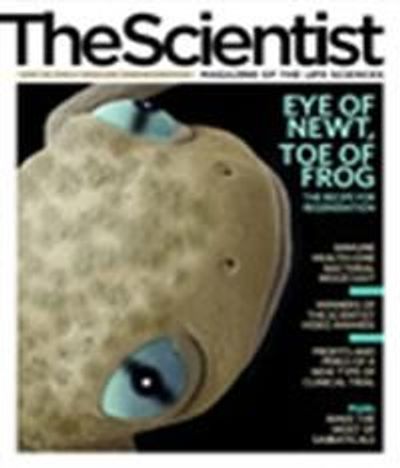 Become a Member of
Receive full access to digital editions of The Scientist, as well as TS Digest, feature stories, more than 35 years of archives, and much more!