Eskew+Dumez+Ripple ArchitectsRunning from patient to patient while fielding calls from reporters, investors, biotech CEOs, and medical engineers, William Kethman isn't your typical medical student. The calls are coming because of his second job: moonlighting as a medical device and biotech inventor in the thick of New Orleans's burgeoning biotechnology economy.
With a jumpstart from Tulane University's bioengineering innovation course, which teaches students how to shape their ideas into medical devices that can make a difference, Kethman and his partners have turned their undergraduate school project—an improved umbilical clamp they call the SafeSnip—into a brand new biotech medical devices company, known as NOvate Medical Technologies.
But Kethman could not have done it alone, he says. "My experience was in engineering and medicine, so I had little experience with the business side of it." He credits their success to the New Orleans BioInnovation Center (NOBIC), a state-funded, nonprofit organization that helps...
Located in the heart of New Orleans, NOBIC rents space in its wet-lab incubator to local start-up biotech companies to help them turn academic research projects into marketable technologies. It was launched after a feasibility study, led by the Louisiana state legislature, recognized that the state already had tremendous investments in life science research, but was not maximizing its value, says Aaron Miscenich, president of NOBIC.
Local research institutions, which received more than $88 million in funding from the National Institutes of Health in 2008, were having trouble translating basic research into profit-yielding biotech and medicine-related products. Technologies being developed at local universities were either lying dormant or being commercialized out of state. NOBIC spends time investigating the research being done at these schools and discussing the commercialization possibilities with the researchers.
The state's universities are producing "brilliant, life-changing research that we can really do something with," says Miscenich. "The university gets money [from the commercialization of patents], but the state doesn't get economic revenue."
Now, with the help of NOBIC, young entrepreneurs can get the support they need designing a business plan, finding investors, and making the necessary connections to launch new companies from interesting ideas—and give the local economy a much needed boost.
"There are enough people here who are interested in doing the entrepreneurial stuff that they can share experience and resources," says David Rice, who teaches Tulane's bioengineering innovation course. "As a result, we will be seeing more and more people willing to take that step."
Reforming the region
Historically, New Orleans has been a heavy industry town—focused on shipbuilding and oil. The state is hoping that a switch in economic focus to "lighter" industries, like biotech, will help keep the city afloat in tough economic times. "Shipbuilding can be done elsewhere more cheaply," says Rice, "and you've heard about our oil problem."
Eskew+Dumez+Ripple ArchitectsIndeed, the area's burgeoning biotech industry is nothing to scoff at. While NOBIC's efforts help local scientists dip their toe in the biotech pool, other local efforts, such as tax credits and grant-matching initiatives, are working to draw out-of-state companies to the area. But the process has not been a smooth one.
NOBIC started as a part of a three-center Louisiana incubator created by the state legislature in 2002. The project was still in the planning stages when Hurricane Katrina hit 3 years later; NOBIC's planning committee then had to take a step back and rethink their approach as construction costs skyrocketed and the region was hit with economic turmoil.
The silver lining of Katrina is that the New Orleans area has been revitalized.—Dale Pfost, president and CEO of NuMe Health
"New Orleans was a dramatically different place after the storm," says Miscenich. "Our construction costs had risen by over 40 percent. It was clear that we could not afford to build [our original design]"—a 12,000-square-meter facility. Instead, NOBIC started planning for a much smaller facility, and expanded its program to include more local schools, including Xavier University and the University of New Orleans.
But the storm brought more than just bad news. It also generated a more pressing need for NOBIC's services and less resistance to reforming the local economy. As a traditional heavy industry town, New Orleans hadn't invested much in its science economy, but after Katrina, the area was forced to reassess its economic investments.
"People have come back with a purpose," says Dale Pfost, the president and CEO of NuMe Health, a New Orleans–based biotech start-up. "The silver lining of Katrina is that the New Orleans area has been revitalized."
NOBIC started construction on the new facility, the BioInnovation Center, in October 2009. Located in the Greater New Orleans Biosciences Economic Development District (GNOBEDD), the center is in close proximity to two new hospitals, three universities, and a 14,400-square-meter cancer research facility. With 18 lab suites and 57 offices, the space will have enough room for up to 80 companies.
While the construction is not scheduled to be completed until April 2011, NOBIC is already working with local companies. Biosensor company Meta Logos, Inc., for example, currently resides in NOBIC's temporary incubator, with plans to move to their permanent facilities after the new building is finished. With NOBIC's help, Meta Logos has gone from a research project at the University of New Orleans to a start-up company engaged with several partners.
"In general, it is very, very difficult to take a pure research project and breach that bench-to-product gap," says the company's CEO Robert Adelman. "We would not be up and running…and be able to engage these large partners with any real force or credibility without NOBIC."
In addition to space (and equipment to put in it), NOBIC also helps companies find investors. Their connections have helped Adelman and his partner Stephen Winters-Hilt of the University of New Orleans keep greater ownership over their company, rather than having to sell it off to venture capitalists. "If you can get it out of the university with a license, you are just kind of exposed," says Adelman. "Now there is a place where you can go for shelter, and be given a lot of support to get through a very critical early stage."
Furthermore, NOBIC supplies fledgling biotechs with access to qualified law and business interns from local MBA and law programs to help new biotech entrepreneurs make smart business choices and protect their intellectual property, as well as with connections to local scientists to help businesses expand. "I can't emphasize more how critical it is," says Adelman. "NOBIC and the BioInnovation Center really are, with laser-like focus, addressing that one area where there is a real need for support for small companies."
Bright future ahead?
The state's push to grow their biotech and entrepreneurial sectors seems to be working. In the past 18 months, NOBIC has helped seven start-ups launch their companies, says James McNamara, CEO of the GNOBEDD.
"[The people of New Orleans] have a zeal and an energy about them that speaks well for the prospects of this center," says NuMe Health's Pfost. "The BioInnovation Center helped galvanize that sense that there is a future here."
While NOBIC is aiming to help commercialize the research being done in local universities, they are also hoping to become a major bioscience center, one that would keep local businesses in the area and even attract outside business to settle in the community. It was NOBIC's support, for example, that kept Meta Logos from leaving the state, Adelman says. "They anchored this company in Louisiana," he says. "There is a large footprint going forward in Louisiana, no matter what at this point."
The center has begun to attract outside attention as well. NuMe Health, for instance, which works to develop medical foods for prediabetics, was drawn to the area from California by the centralized knowledge base. "I found that there was a rich cluster of leading teaching hospitals and medical research institutions in the Gulf states," says Pfost. "Right here in New Orleans, and Louisiana in general, there is a very rich infrastructure of medical research," he says.
The BioInnovation Center was particularly appealing when NuMe Health was looking to set up shop in New Orleans, he says, because he had started companies in incubators before and found the experience very beneficial due to the flexible lab space and the communal atmosphere, where you can interact with other start-ups. The company is currently working out of NOBIC's temporary facilities, and Pfost has already reserved space in the new building.
In addition to NOBIC's incubator and its support of local biotech companies, the state is offering other incentives that are making it more attractive for local entrepreneurs to set up shop. The state will match 20 percent of funds a company receives from Small Business Innovation Research (SBIR) grants and offers special tax incentives to biotechs involved in research and development. Companies with an SIBR grant and fewer than 50 employees can get a refundable tax credit of 40 percent.
As it stands, the future of biotech in New Orleans is looking bright. The ability to spin out the technologies developed at the local universities is creating companies that provide economic stability and increased local employment. Each life sciences job requires 5.2 support jobs, according to the Biotechnology Industry Organization (BIO), so McNamara figures that adding 10,000 bioscience jobs in the area would end up adding around 50,000 jobs to the economy, making it "a permanent leg of driving the economy in this area."
Biotech is something "New Orleans needs desperately," he says. "We need to have this kind of industry."
Interested in reading more?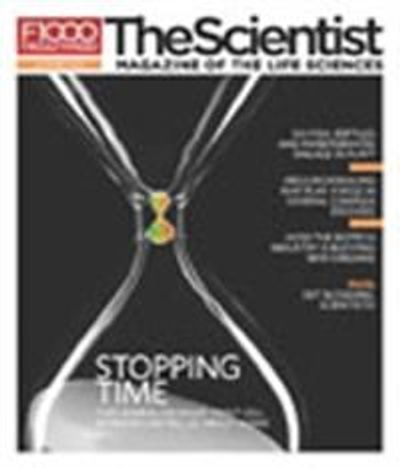 Become a Member of
Receive full access to digital editions of The Scientist, as well as TS Digest, feature stories, more than 35 years of archives, and much more!